Let's get this out of the way up front: You can't replace Mallory Swanson.
With just eight weeks to go before the Women's World Cup kicks off, U.S. women's national team coach Vlatko Andonovski and his staff have certainly been thinking about how to do it. They've probably been losing sleep over it, too. But try as you might, you just can't.
Until the moment she tore the patellar tendon in her left knee last month, Swanson was a locked-in starter on the left wing for the Americans. She scored in all five USWNT games in 2023 and led the team in goals until her injury against Ireland in the last international break before the World Cup. Swanson's combination of direct dribbling, speed and box presence is unique, and she leveraged it to constantly prod opposing backlines.
- Stream on ESPN+: LaLiga, Bundesliga & more (U.S.)
- Read on ESPN+: What stats say about new USMNT striker Balogun
Before going down, Swanson wasn't just going to be a key part of the USWNT's quest to three-peat at the World Cup this summer. She was going to be the key part. The U.S. can't fully replace her dynamism on the wing, but it still has to move forward, and Andonovski must decide how to proceed without his most dangerous attacking player.
Andonovski has options, there's no doubt about that. That's the best part about being the USWNT's head coach: You never run out of options.
Catarina Macario is coming back from injury herself, and if she can return to action soon, Andonovski could use her on the wing opposite of Sophia Smith. He could also opt to put either Alyssa Thompson or Lynn Williams, who have both been excellent in the NWSL this year, on his front line. It's even possible that he pulls out a more dramatic formation change to avoid using a Swanson-less front three altogether.
But to maximize the USWNT's potential this summer, one option stands above the rest: starting Trinity Rodman. Here's what makes Rodman a strong choice in this imperfect situation and how, if given the opportunity, she'll change the USWNT.
Why Rodman balances the USWNT
Whether she's playing for the NWSL's Washington Spirit or for the USWNT, Rodman brings impressive balance to her team's attacks. You might be thinking: Balance? That's boring. Isn't that the kind of thing defensive midfielders, not attacking stars, are supposed to bring? In Rodman's case, balance is anything but boring.
Like Swanson and Smith, the 20-year-old is direct and often goal-dangerous. She can burst right past opposing defenders, break into the attack, and do stuff like this:
Trinity Rodman really said, "Fine... I'll do it myself."

What a run and finish to give @WashSpirit a 1-0 lead! pic.twitter.com/Pn3YSQonXb

— National Women's Soccer League (@NWSL) March 26, 2023
With the national team, her speed allows the Americans to keep some of the vertical transition attacking play that Swanson and Smith nearly perfected.
Rodman has been a real goal threat in her first two full NWSL seasons. In her rookie year in 2021, she finished in the 89th percentile for non-penalty expected goals per 90 minutes among the league's wingers and attacking midfielders, according to FBref. (Expected goals, or xG, is an advanced stat that measures the likelihood a shot will result in a goal, indicating how good a player is at finding quality shooting chances.) In 2022, she finished in the 71st percentile for that same non-penalty xG statistic.
Still, Rodman isn't Swanson when it comes to finishing attacks... although no one is. Swanson averaged 0.43 goals per 90 minutes in the NWSL over the last two years. Rodman averaged 0.28 goals per 90. But what 20-year-old Rodman lacks in scoring compared to the best of the best, she makes up for with her passing.
Rodman is elite at creating chances with her passing -- better than Swanson, Smith, Williams, Thompson, or virtually anyone else in the U.S. pool. Using her speed and skill to open up space to find teammates, Rodman's similar enough to Swanson to maintain chemistry and positional rotations on the wings, but different enough to add a new dimension.
Here's an example from last season of how Rodman's passing changes games. Visiting the Houston Dash with the Spirit, she tracked down the ball on the right wing, which could be where she'll feature for the U.S. this summer with Smith moving to the left. As she caught up to the ball, Rodman played a lovely back-heel to Ashley Sanchez. Thanks to Rodman's vision and execution, the pair could attack two-on-one down the wing, creating an opportunity for Rodman to put a well-weighted ball on a platter for Ashley Hatch to finish.
Now THAT was pretty @WashSpirit. 😍

Trinity Rodman delivers an assist to Ashley Hatch and we're tied up in Houston. 👀 pic.twitter.com/lz8A5EBOdN

— Attacking Third (@AttackingThird) August 28, 2022
When in the final third, Rodman regularly picks out her teammates with clever passes. According to FBref, she's in the 99th percentile per-90 for assists and expected assists (or xA, a measure of how likely it is that a pass will become an assist) among wingers and attacking midfielders.
Rodman is right-footed, but the young attacker can create danger with her left foot, too. We saw that on her assist for Swanson when the USWNT faced New Zealand earlier this year.
That play -- Rodman collecting the assist and Swanson collecting the goal -- offers a clear explanation of the biggest difference between the two wingers in a nutshell. Where Rodman sees an opportunity to pass, Swanson sees an opportunity to score.
The ball from @trinity_rodman, the finish from @MalPugh 🤌

📺 @NBCUniverso / @peacock pic.twitter.com/8PXh84LJ3I

— U.S. Women's National Soccer Team (@USWNT) January 18, 2023
Those contrasting tendencies between Rodman and Swanson can be seen in the underlying data, too. The goals-added metric used by American Soccer Analysis, which measures how a player's touches impact their team's chances of scoring and conceding, paints Rodman as a phenomenal passer. Both of her two full seasons in the NWSL rank inside the top 25 in their database based on passing value per-game among starting forwards. Neither of Swanson's 2021 or 2022 seasons crack the top 100.
So, while Swanson makes her mark with dribbling and a sprinkling of clever movement in the final third, Rodman impacts the game with dribbling, off-ball movement, and passing. Rodman will still run through you, like Swanson and Smith, but she's happy to pass right around you, too.
How Rodman could change the USWNT
Thanks to her appreciation of both finesse and brute force, Rodman is less likely to take over a game than Swanson. Still, Rodman is more likely to help the star players around her maximize their abilities. For a team like the USWNT -- with a roster full of attacking difference-makers -- that's a very valuable attribute. If Rodman ends up starting for the USWNT this summer, she will help her teammates become even more dangerous in the attack.
Alex Morgan, who is the favorite to start up top as striker for the USWNT at the World Cup, could be the biggest beneficiary of Rodman's presence in the starting lineup. Why? Well, because Morgan usually relies on others to create chances for her. She doesn't want to take extra touches or beat a defender on the dribble. No, Morgan prefers to slip behind an opposing center-back to meet a ball in the box for a shot. Per FBref, Morgan finished with more offsides per 90 minutes than any other forward in the NWSL last year, which shows just how frequently she tries to run behind opposing backlines.
When Morgan waits for service with Rodman on the field, she can be confident that a quality pass is coming. Even as a rookie back in 2021, Rodman showed off a wild passing range. Her pinpoint assist for Kelley O'Hara's game-winning goal against the Chicago Red Stars in the NWSL Championship is just one example. Other players in the U.S. pool can hit teasing balls into the box, but few do as often as Rodman.
Picture-perfect first goal of the season from @kelleymohara 🔥#WASvCHI | @CBS | #NWSL21 pic.twitter.com/89ohWFr9Dl

— National Women's Soccer League (@NWSL) November 20, 2021
Rodman can serve her teammates in the box, but she can also move the ball quickly to set up the pass before the pass. With her vision, she helps break down well-drilled, compact blocks. Because the USWNT has so much talent, many teams at the World Cup will resort to defending close to their own goal in hopes of limiting their space. At that point, Rodman's savvy passing and movement will become even more valuable than they are in an open game.
Not all of her efforts turn into actual chances, but Rodman knows how to create space and exploit gaps.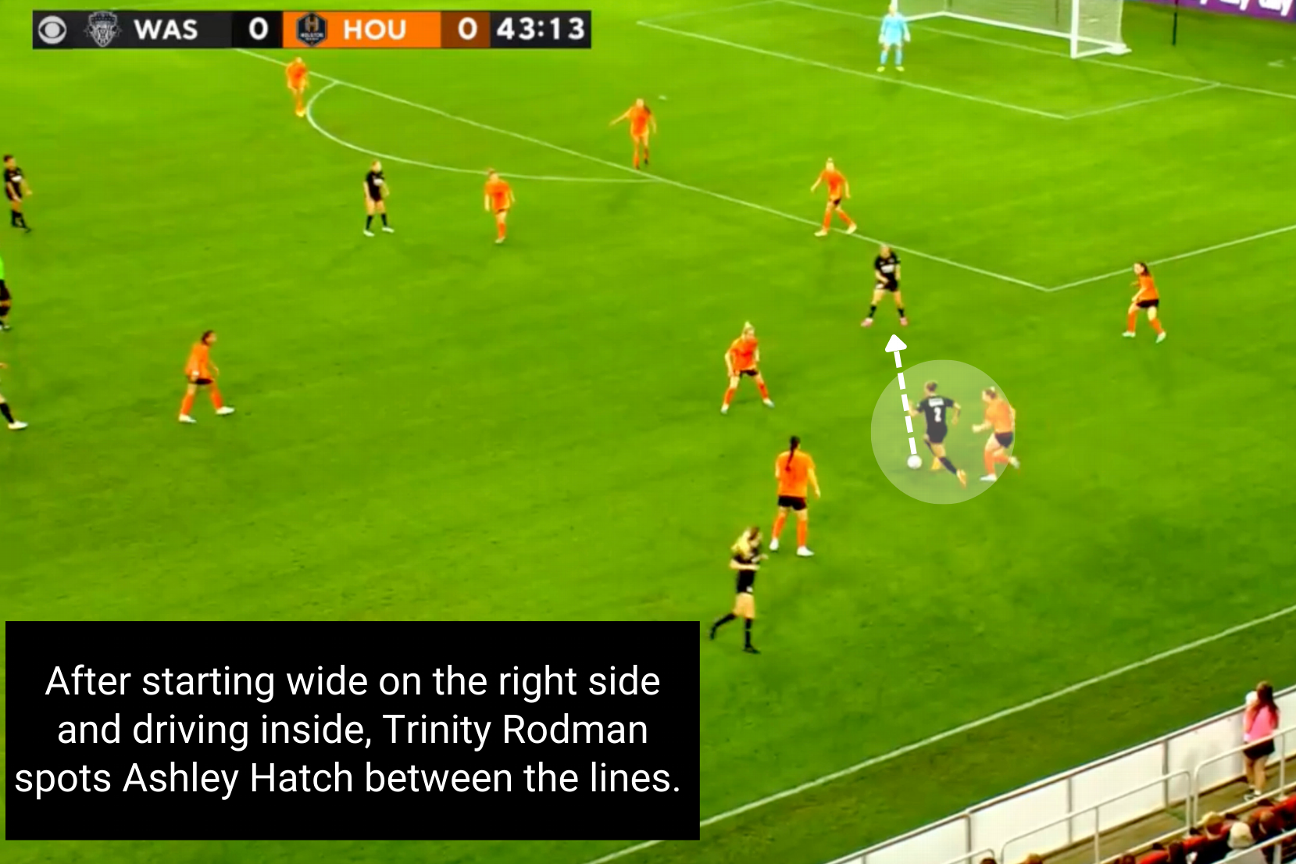 Playing for the Spirit, Rodman finds Hatch with a slipped pass.

With her run and pass, Rodman forced the Dash's defense to collapse and opened up space for a teammate on the wing.
Come the summer, the USWNT won't be the same without Swanson in the attack, and their ceiling won't be quite as high. But since you can't replace her, why not evolve while she's out? Adding Rodman's balanced skillset to the starting lineup will let the U.S. maintain some of the same searing directness that helps them strike fear in opposing defenders, while giving them another dimension in the final third. She'll help the USWNT become more versatile.
And who knows? That extra dose of versatility just might be what the USWNT needs to lift yet another World Cup trophy.