The results are in for ESPN FC's MLS Confidential, our annual anonymous player poll. Just as in 2015 and 2016, we asked a variety of questions -- everything from what they'd do if they were commissioner for a day to whether they supported promotion and relegation.
Overall, 140 players took part, representing 21 of the league's 22 clubs -- New York City FC was the only team that declined to participate -- and, as you'll see below, they didn't hold back on giving their opinions.
Among the topics covered are league expansion, promotion and relegation, playoff structure and salaries, as well as which big-name, international stars they would like to see join the league and the player that most crosses the disciplinary line.
What is the best thing about being an MLS player?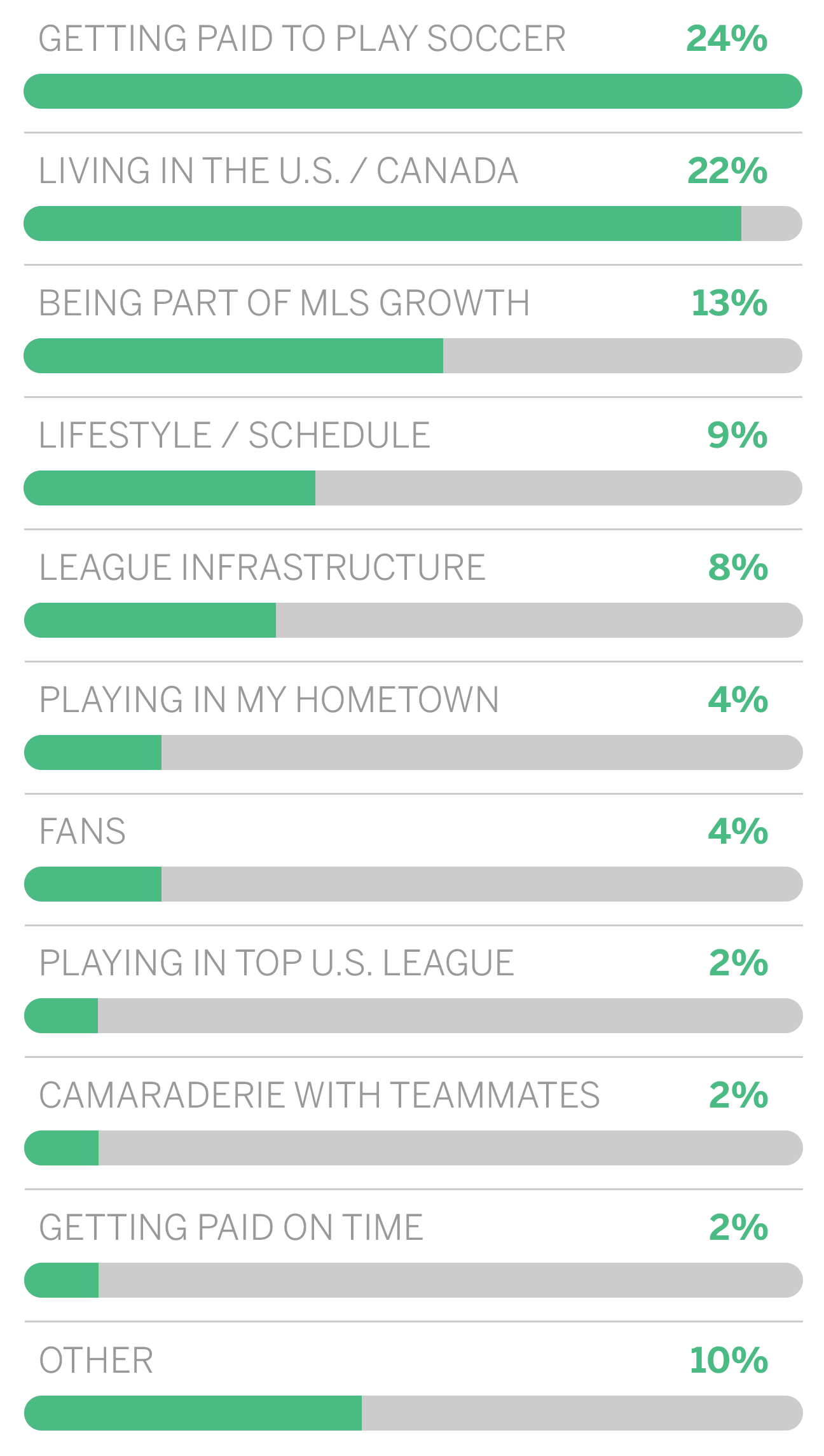 What the players said:
"Just being able to play soccer every day. It's what I've done since as I was a kid. I have a job, but I don't feel like I go to work every day."
"Feeling like in preseason you have a chance to win the whole thing every year. The level of optimism that every team starts the year with is fun and exciting. Any team can beat any team on any given day. It keeps it fun and it keeps it fresh."
"Being part of a league that is growing and improving. Also the facilities are very nice everywhere in the league, and players get paid on time, which doesn't happen everywhere."
---
Do you favor promotion and relegation in MLS?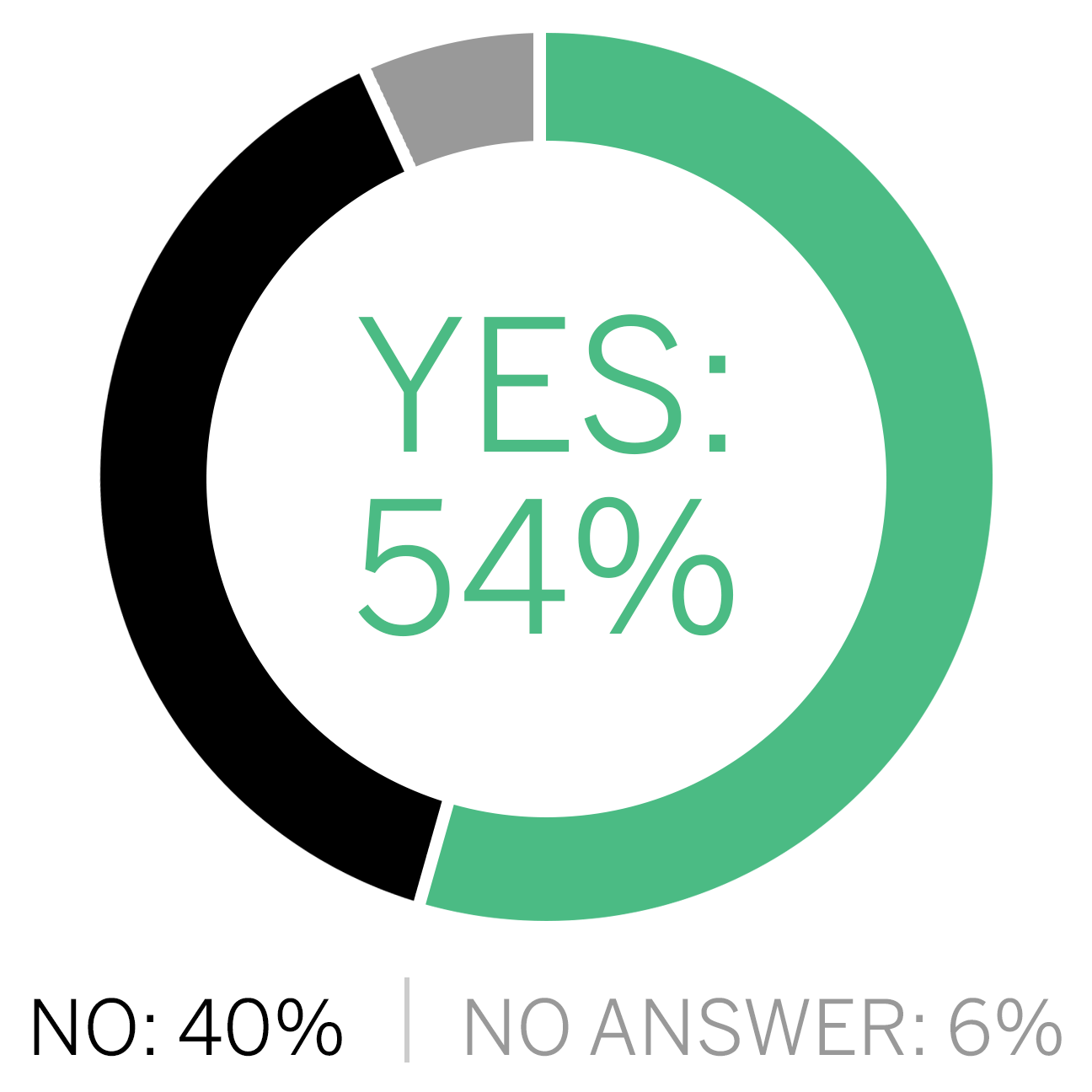 Editor's note: In 2015, 64 percent of those asked favored promotion and relegation, 34 percent were against it and two percent answered "not sure." In 2016, 49 percent were in favour; 51 percent were against.
What the players said:
"Yes. I think it just adds to the competitive nature. Teams on the bottom have no incentive to get better. It will spark owners to get more interested in their clubs, or get new owners who have a passion for the game."
"If we ratchet it up more and become like England, where they fire the coach every six games, is that good for the development of the players and the league and U.S. soccer in general?"
"I don't think there are enough strong teams to do that, and if I put myself in the owners' shoes I would not want to add that sort of risk to my investment. Maybe down the line in 10 or 20 years, but not yet."
"It's something I'd like to see in the future, but I don't think it's necessary to become one of the best leagues."
---
The stated goal of MLS is to have 28 teams. What do you think is the ideal number?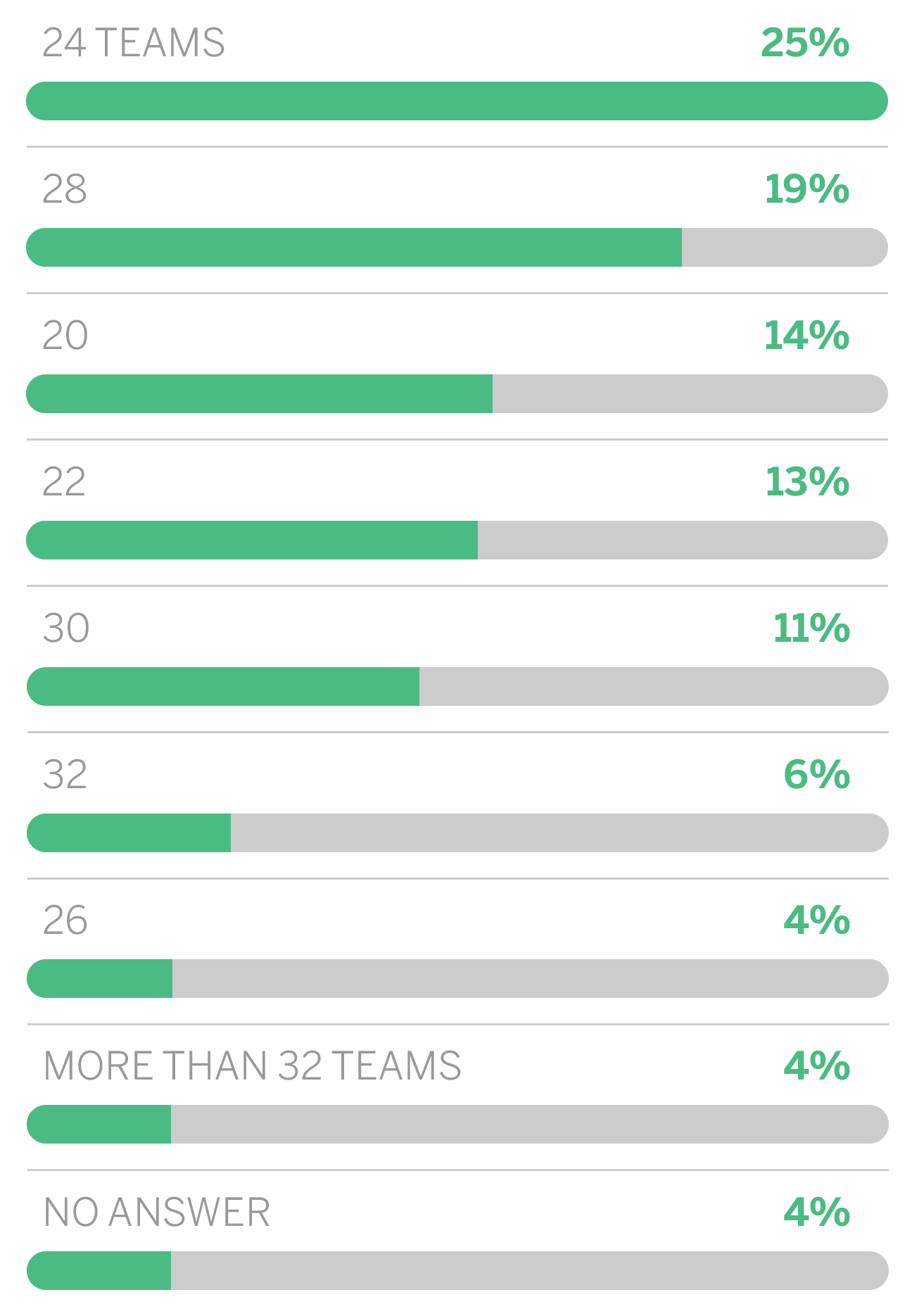 What the players said:
"It's kind of unlimited. The U.S. is a special country. You have 50 states. There are a lot of people trying to get a professional soccer club at the highest level. 32 maybe? We have the capacity to have a couple divisions of top quality soccer in the United States."
"20. I think there are certain markets that aren't up to par, and I think 20 is the ideal number for a single-table format, which I think would work best."
"Twenty probably was ideal, like every other league in the world. But it is a big country, and if you want to make it like the other North American leagues and have an unbalanced schedule, I guess 28 is OK."
"I'd like to see 70 top-class teams. Why not? Every state should have a team, and the big cities should have two."
---
Are you happy with MLS' salary structure?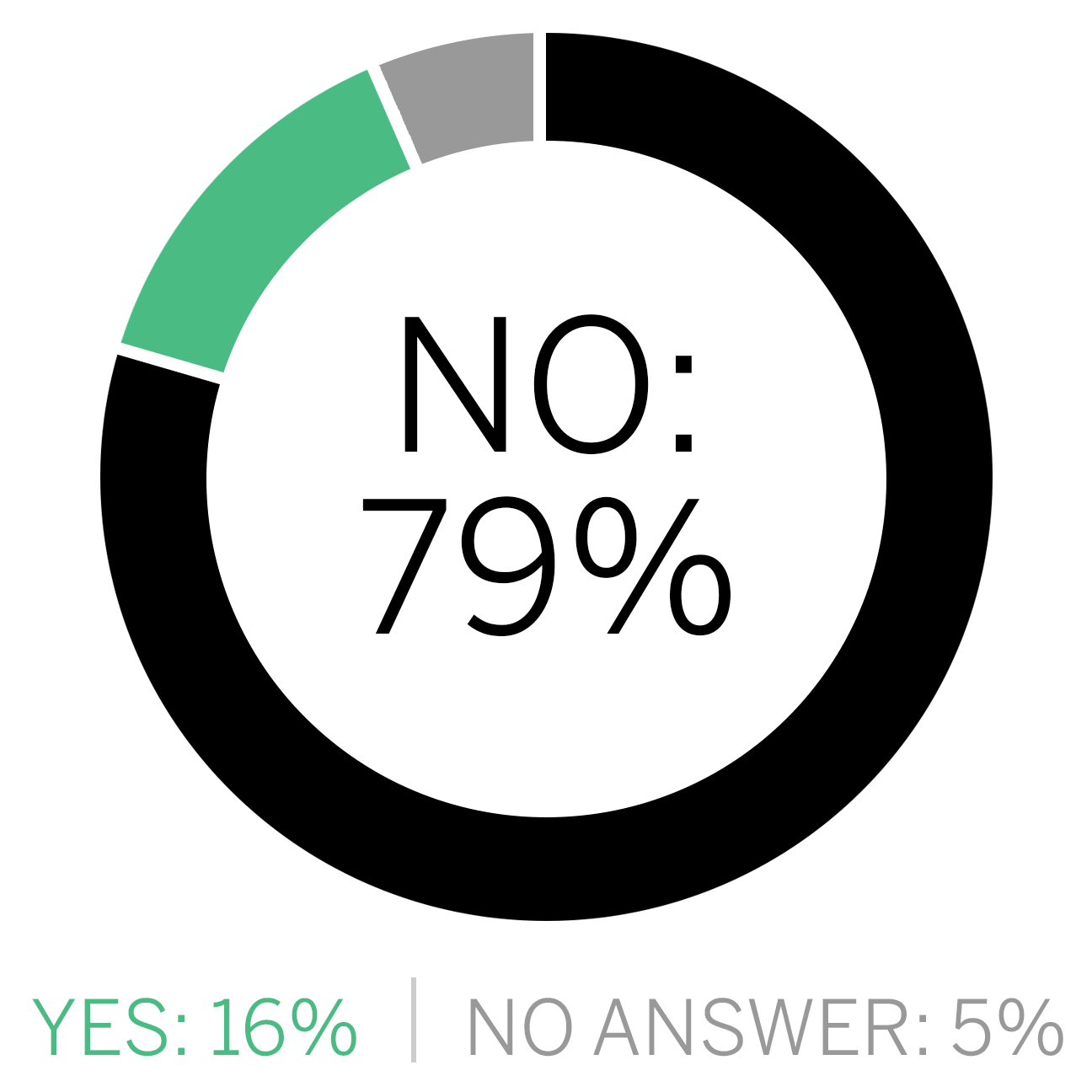 What the players said:
"I think the structure needs to be improved. They need to [raise] the minimum salary to at least $100,000. To get more young American and Canadian players to play soccer, they need to see that players are not being paid enough to rent their own apartment in a big city or buy a nice car."
"It could be better, but the strides they made over the last two CBA have been good. I came into the league on a $12,000 contract; now these guys are making $50,000 and $60,000. It's come a long way and hopefully it keeps going."
"The discrepancy between the DPs (designated players) and the guys on the minimum salary is insane."
"It's tough to ask guys in big cities to really feel like they're professional soccer players on the salaries they're on."
---
Will David Beckham's team in Miami ever happen?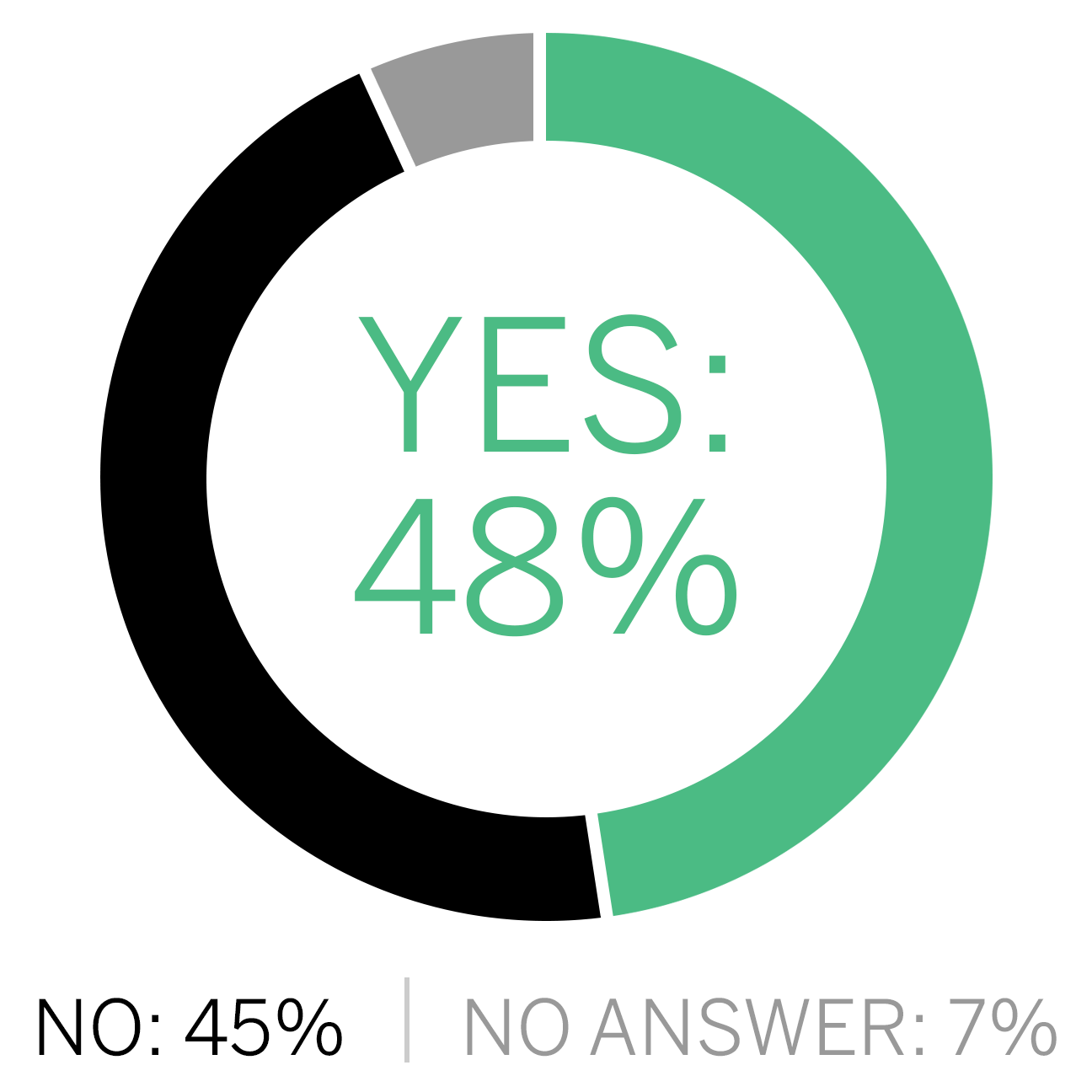 What the players said:
"Yes. It's David Beckham, and Miami has to have a team."
"No. There are too many hurdles. It's just not a good sports town. I don't think it was smart from the beginning, and I think there are a lot of other cities that are more deserving, more prepared and would do better for the league."
"The guys that want to play there want to go for the wrong reasons, let me tell you that right away."
---
If you were commissioner for a day, what would be the one thing you would change?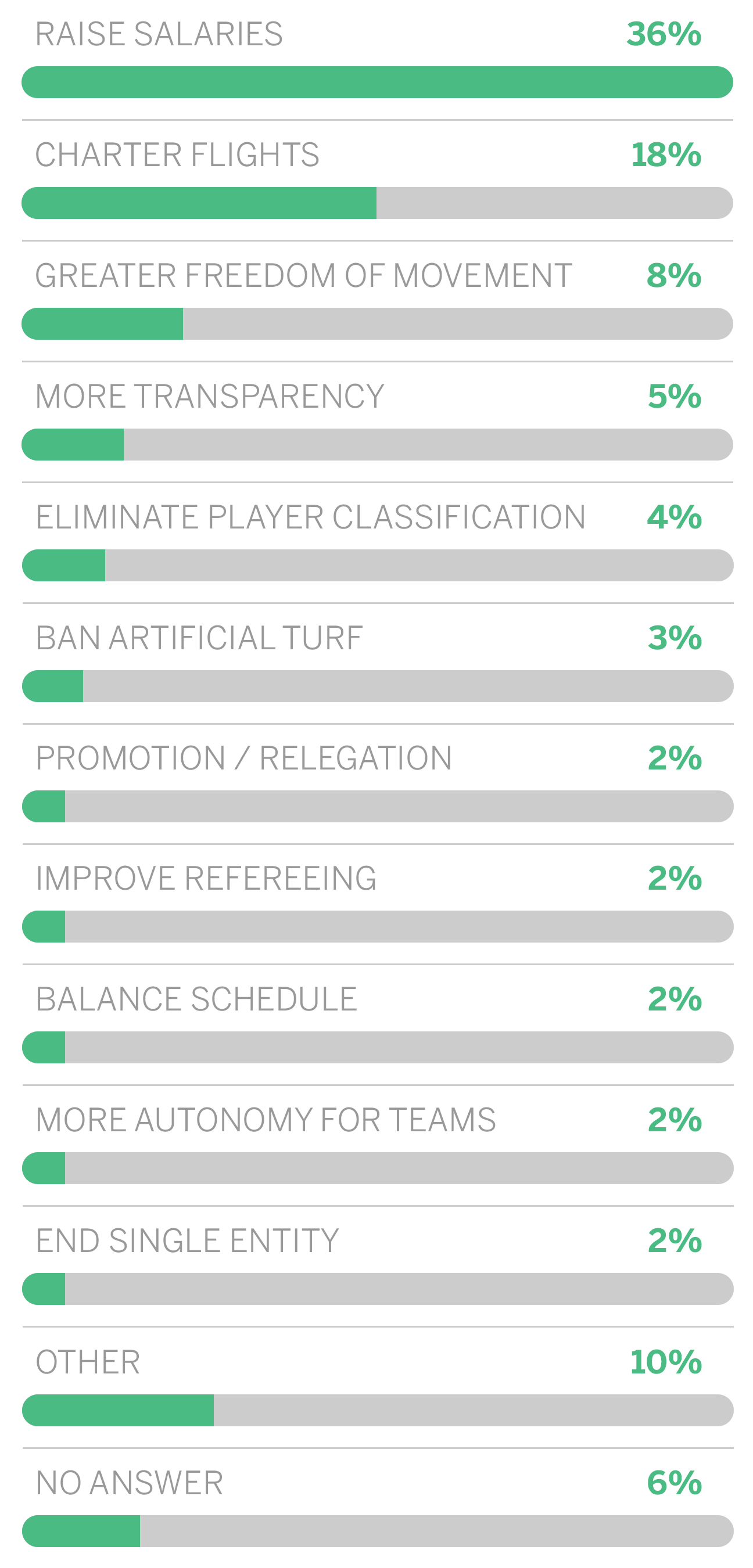 What the players said:
"Better player rights. I think it's silly how a team can draft a player, keep him through preseason and then assign him to a USL team. Or draft a player, not sign him and still have his rights. I think those things aren't good for players."
"Everyone gets their own private plane. Seriously, charter flights."
"I'd put my nickname on the back of my jersey. MLS declines most of those requests. I'm not sure many fans know that."
"Not everything has to go through the league office. Those guys aren't necessarily accountable for the results on the field."
---
Has refereeing got better or worse over the past year?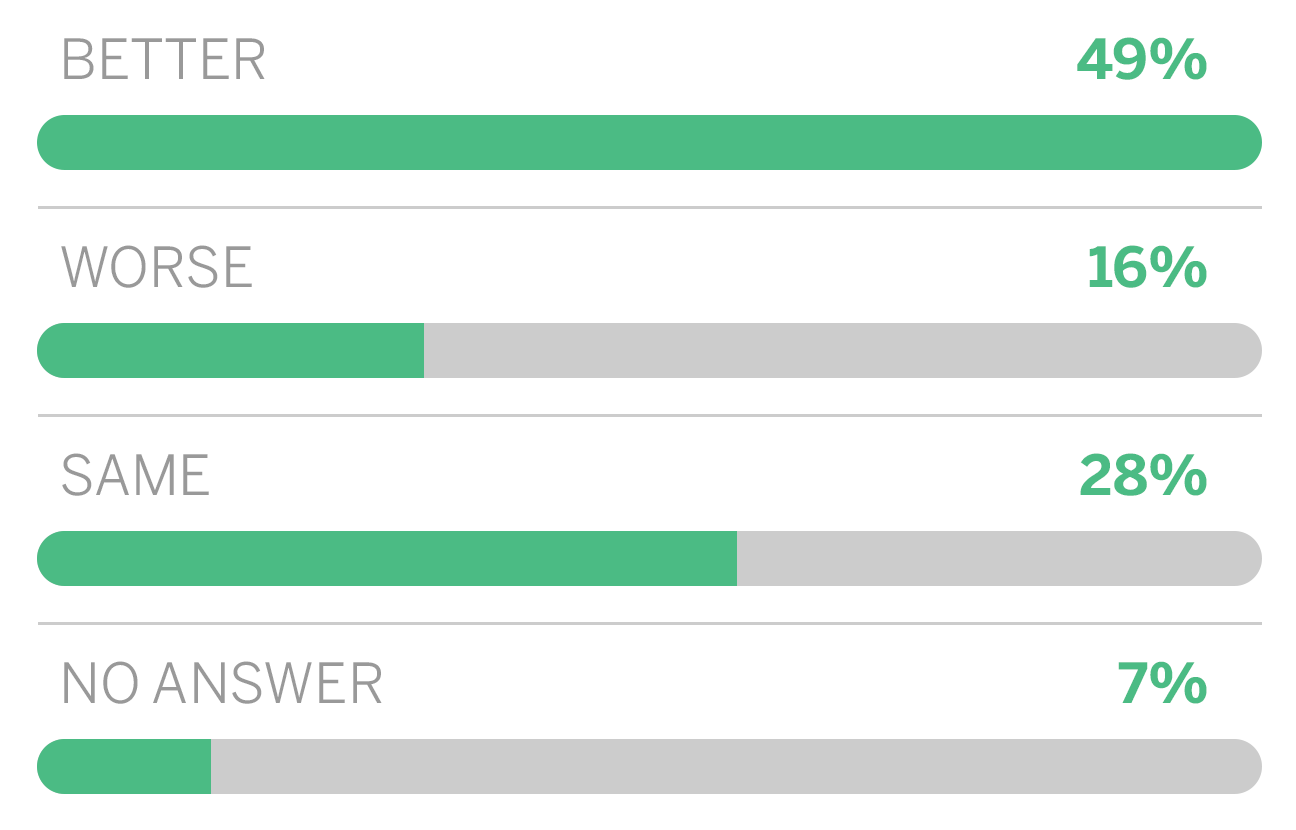 What the players said:
"I feel like the past couple of years, they're more consistent. You might get a screwed on a call in one game, but it's not multiple games. I feel like it's a pretty level playing field now. The refs aren't trying to win the games; they're letting the teams decide."
"I don't think the referees have improved at all. It doesn't even feel like most of them watch soccer on a regular basis. And we don't see them getting punished for their mistakes."
"I don't know how much better they can get. Statistics show that they get 98 percent of the decisions right. That's within human error."
"They don't need to be a--h---- for no reason. Some guys won't even talk to you. We understand that they make mistakes. This is a game of mistakes. But if they knew how to manage players better and talk with them, players would appreciate it, and they'd be more successful."
---
The 2016 playoffs lasted from Oct. 26-Dec. 10. Is that too long to maintain momentum?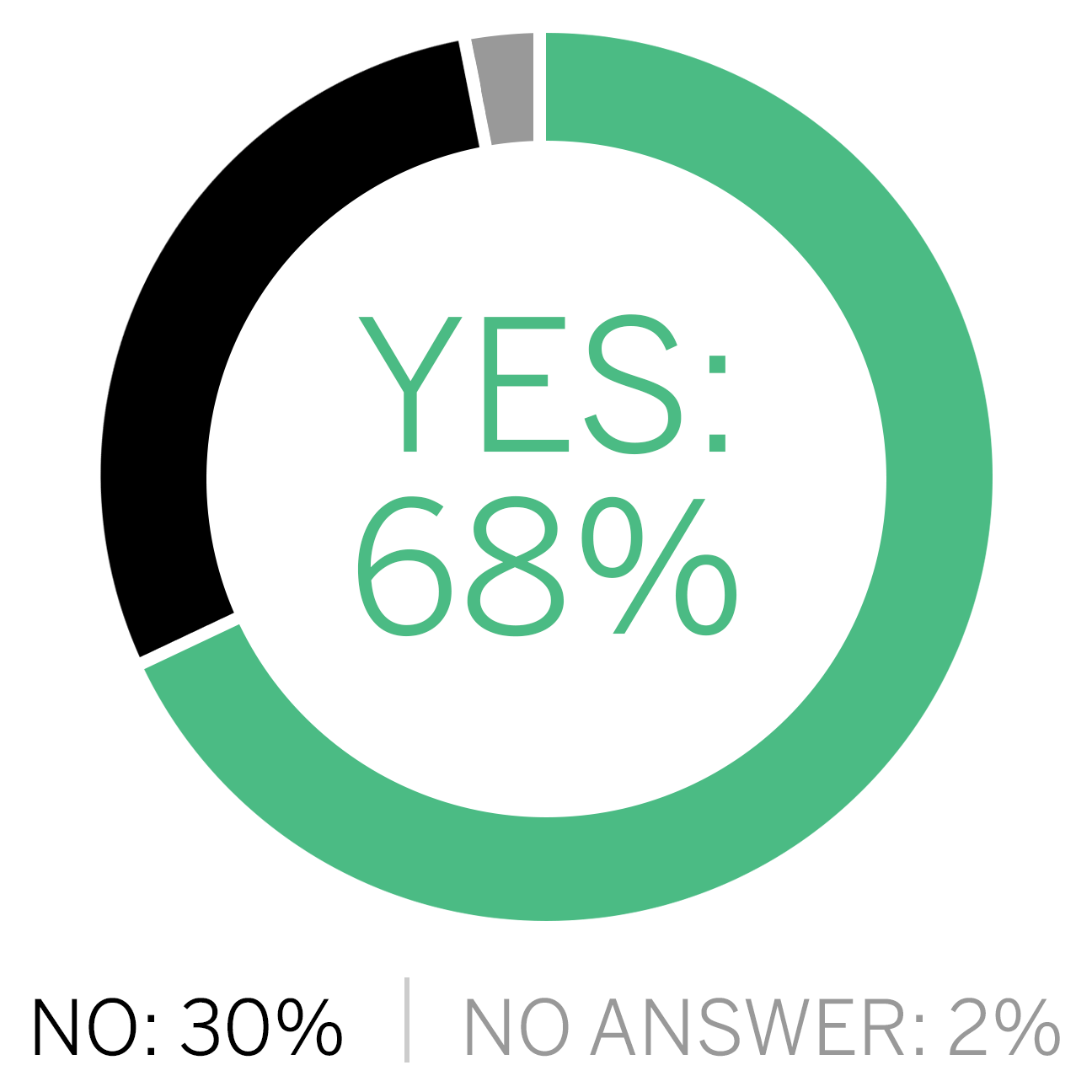 What the players said:
"Yes. The FIFA breaks; it's a little bit of a mess. It's too long and drawn out, and I think you lose momentum in the communities; the players lose slight momentum."
"No. You want to keep the quality high during the playoffs. It is a bit long, but you need guys to be rested going into those games."
"A week and a half between the semis and final is a little bit too long for guys to be sitting around. I would make it a week."
---
Which player crosses the line in terms of discipline more than any other?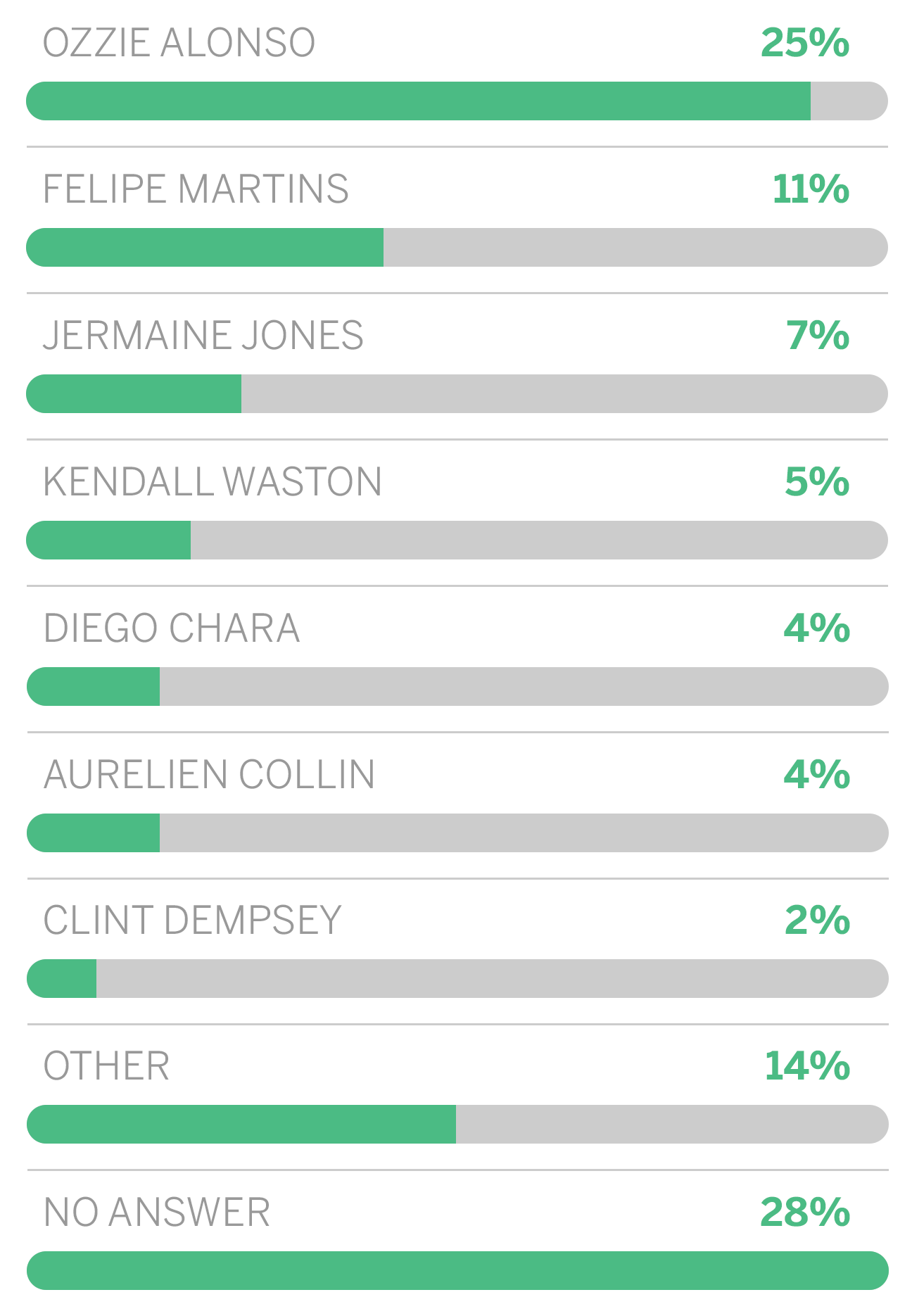 What the players said:
"Ozzie Alonso. He gets a lot of yellow cards. He may not be the dirtiest, but he hacks away at people."
"Felipe Martins. He just winds people up. He's an agitator. He does a lot of things that aren't punishable by referee standards, but if people found out, they wouldn't be impressed."
"Jermaine Jones. He thinks he's bigger than what he is. I know that sometimes you get frustrated, but you can't get into personal stuff like 'I have money and you don't.'"
---
Which is more important to you: Winning the Supporters' Shield or MLS Cup?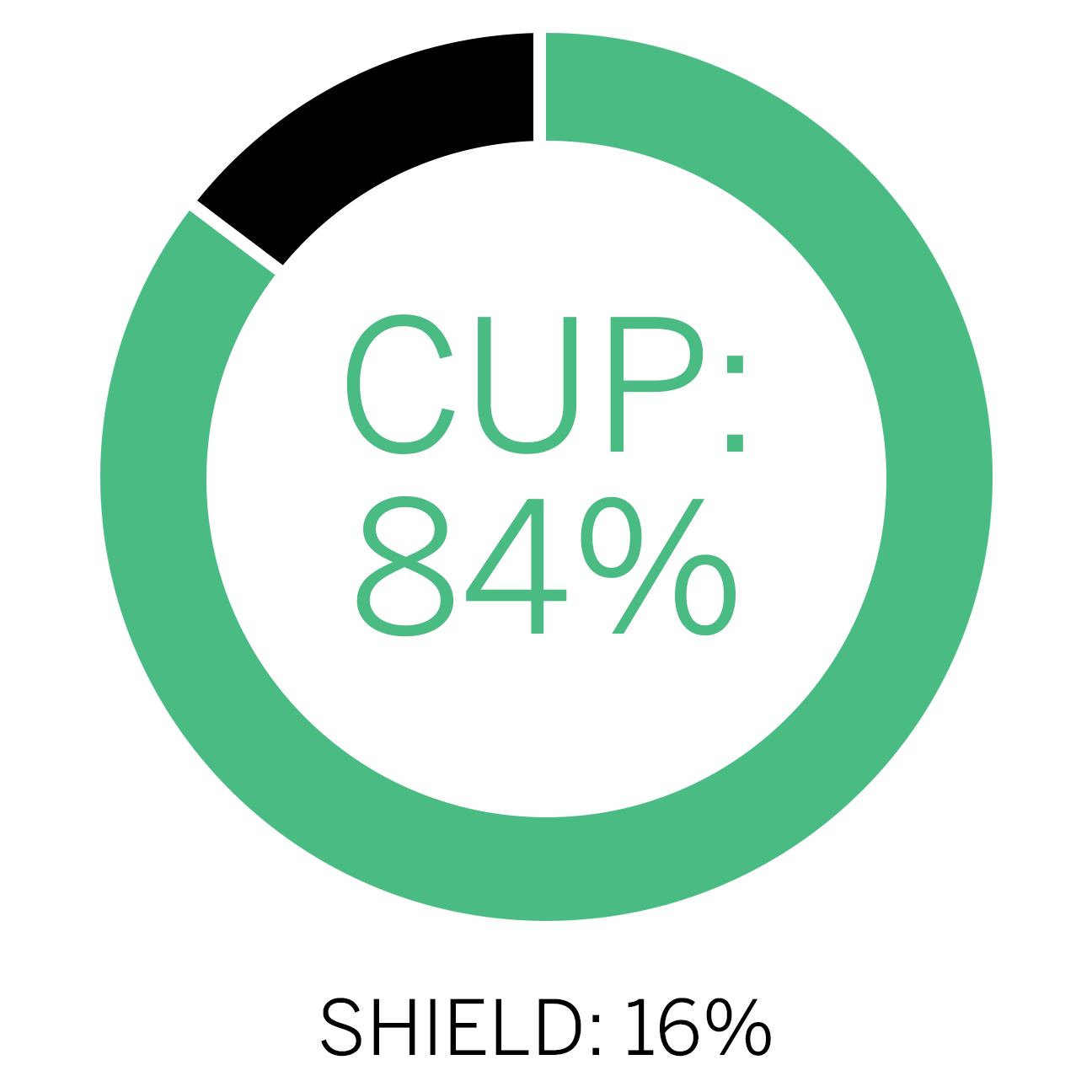 What the players said:
"MLS Cup. No one remembers the Supporters' Shield winners."
"Shield. It's a body of work for a whole season, whereas with MLS Cup you could be the six seed and get hot at the right time."
"MLS Cup, but I do think the Supporters' Shield's winner is the best team."
---
Should Sebastian Giovinco have been named an MVP finalist last season?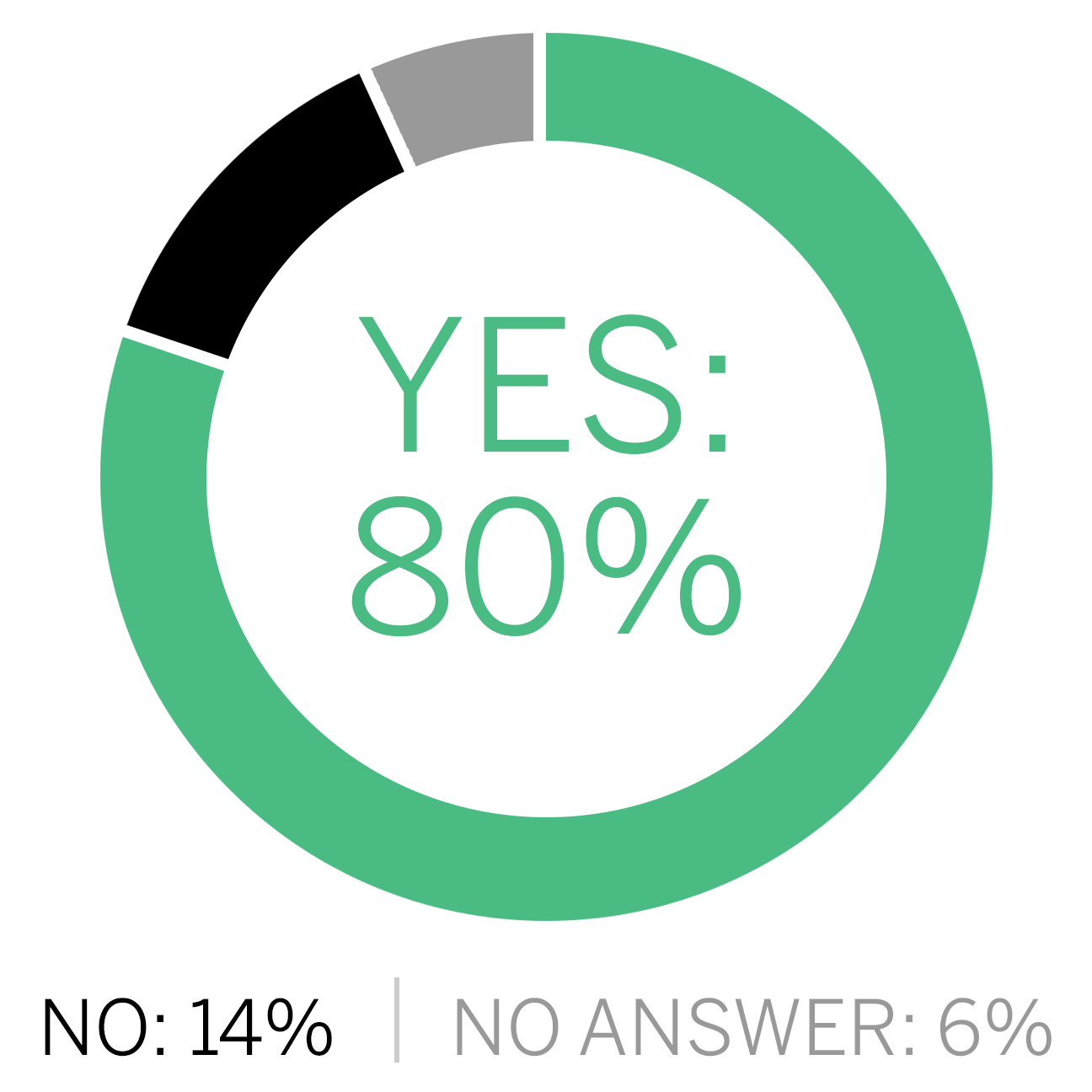 What the players said:
"He should've won it."
"He should have been a top three. It wasn't a huge snub, but I don't know if two guys on one team should be there."
"Giovinco did well, but it's hard to top what the other three did for their clubs."
---
If your life is on the line for a player to make a penalty kick, who do you pick?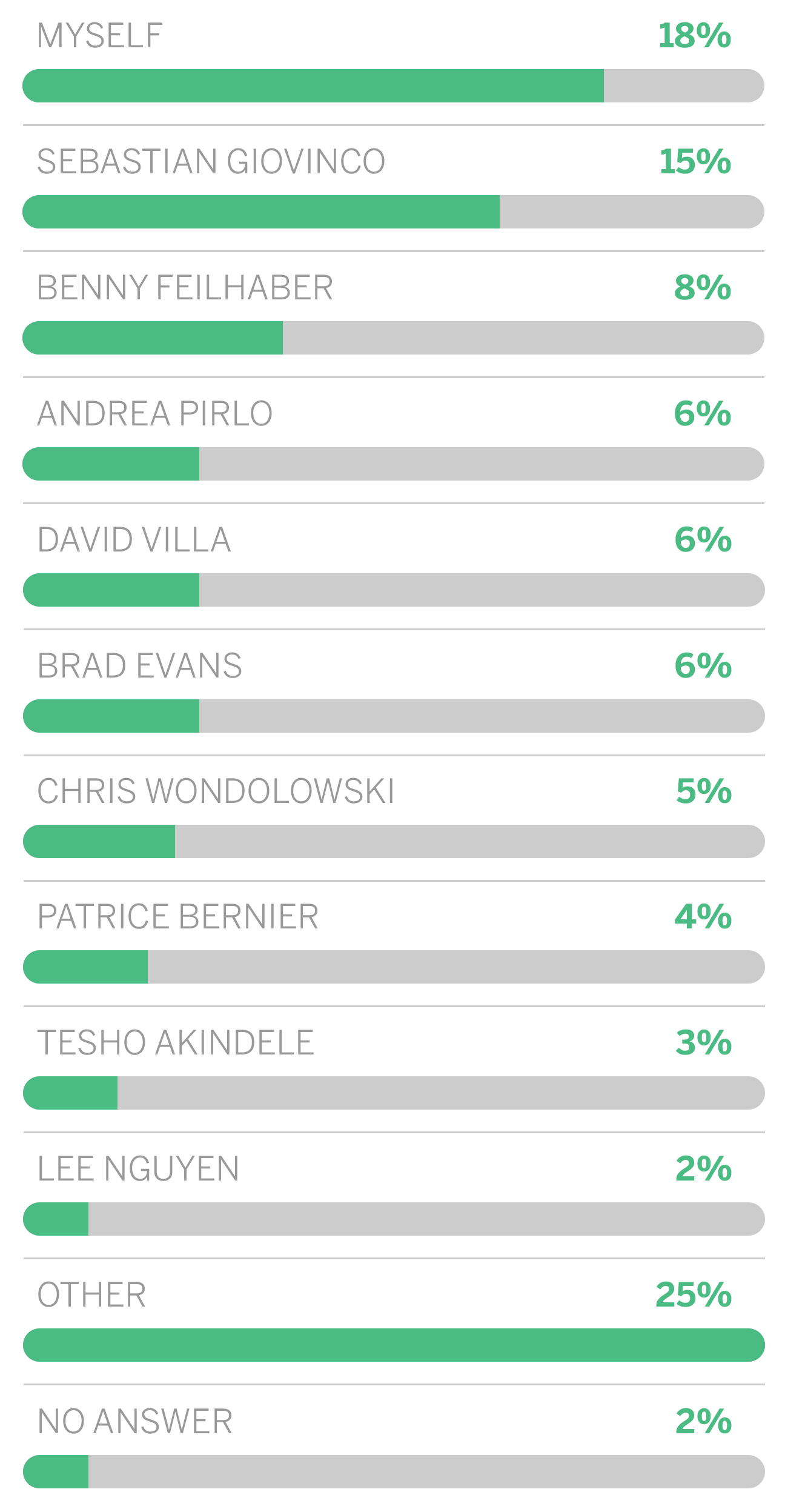 What the players said:
"Myself. It's my life. Why would I give it to someone else to take it?"
"Sebastian Giovinco. He has a quick release shot, and it's very hard to manage that from that distance."
"Benny Feilhaber. He's just calm, he's confident. Not to say he can't ever miss, but I like him as a player, and he's filled with confidence. If my life is on the line, I'd like someone with a lot of confidence stepping up to the spot."
---
Do Designated Players get preferential treatment?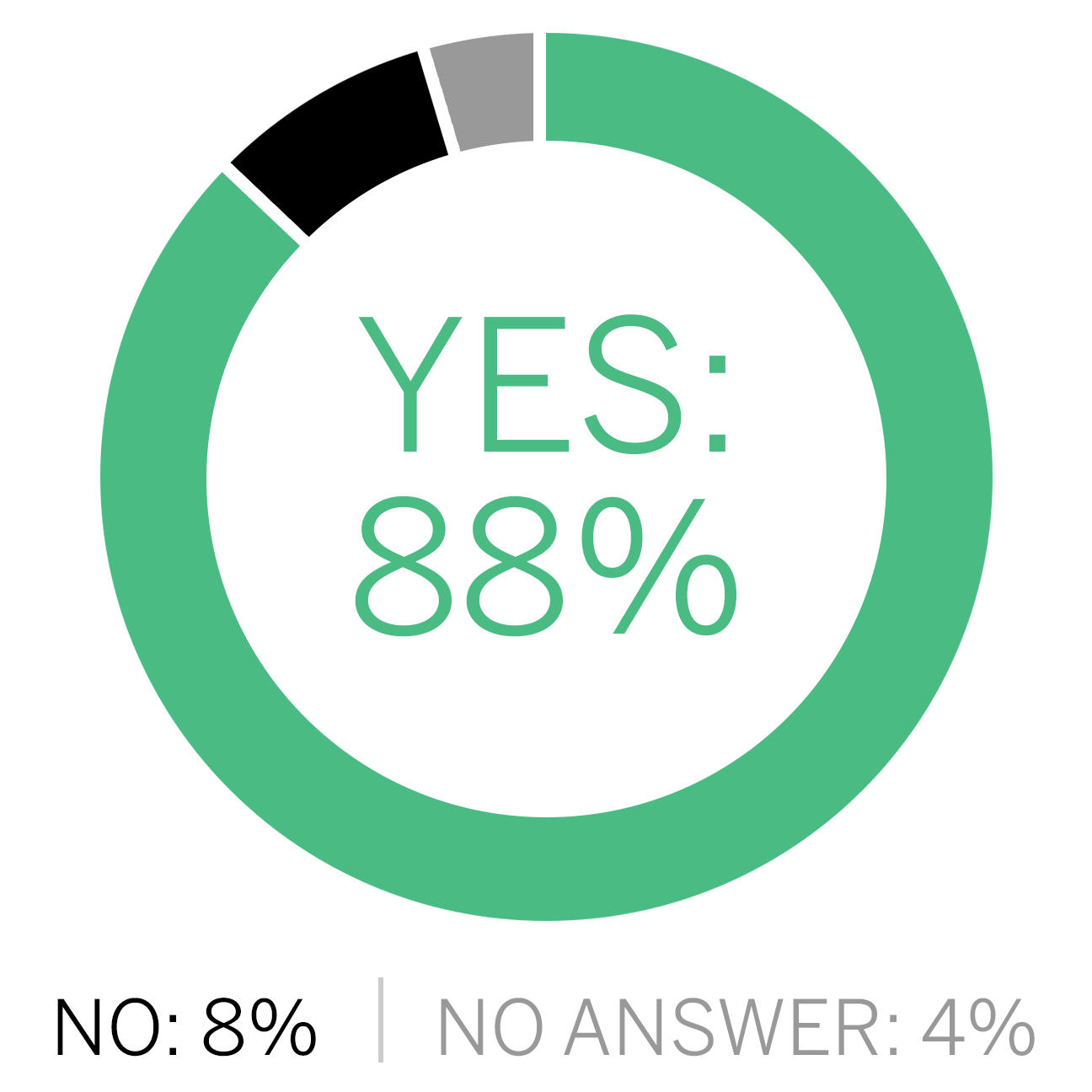 What the players said:
"Yes. I think sometimes it's OK that they do, but guys like Giovinco, Villa, they just get more calls than the average striker. And I'm not saying they shouldn't, just that they do."
"They have a big influence on each game. A big DP can definitely influence how the calls go, absolutely."
"No. Sometimes they get worse treatment."
---
Which big-name Designated Player would you like to come to MLS?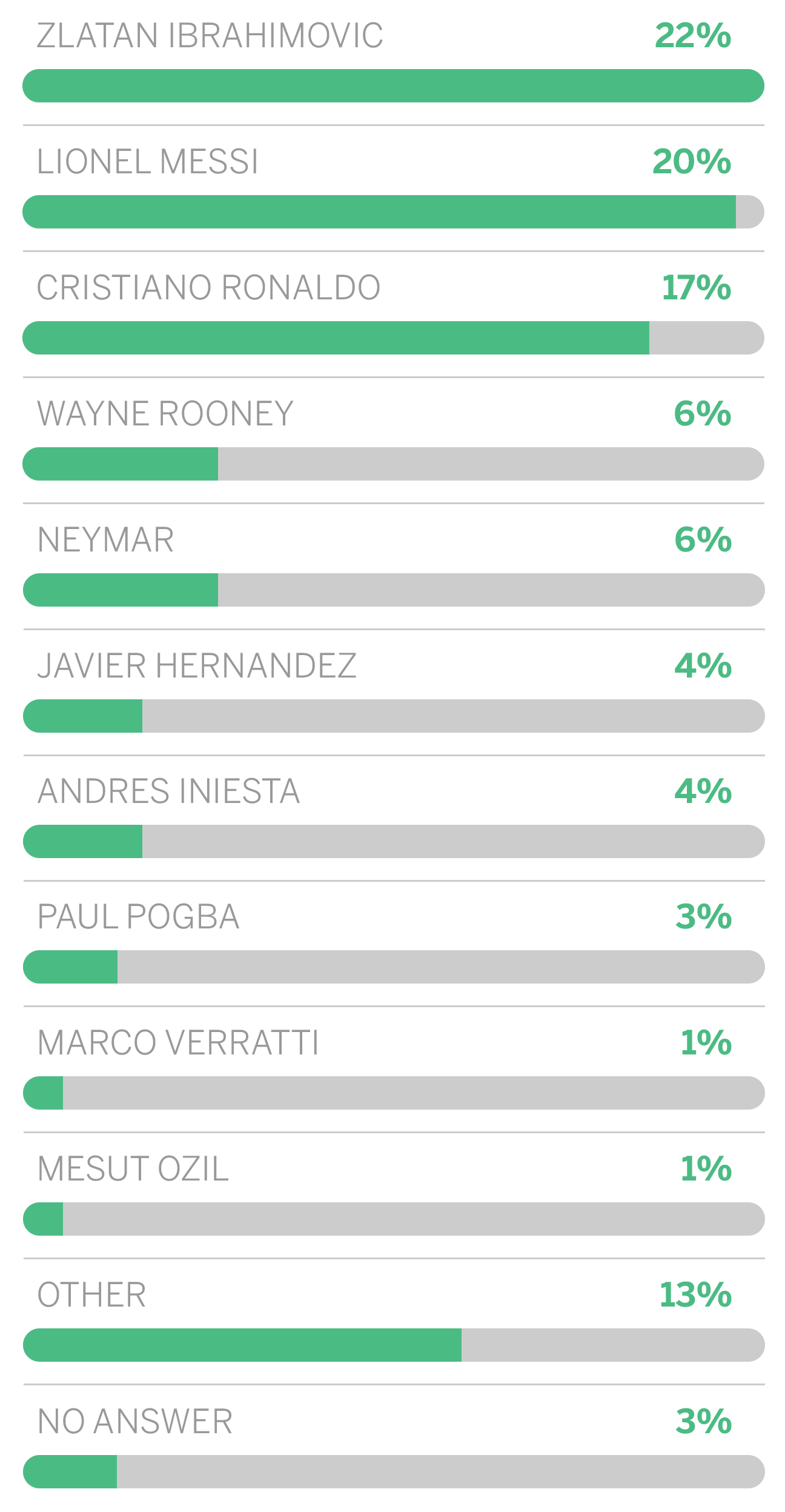 What the players said:
"Zlatan. If he came, that would be sick. A personality like that would be good for the league."
"Ibrahimovic would be great entertainment. He'd be on SportsCenter almost daily."
"There's a type more than a specific player. They have to be 23-27-years old. They have to be on the upswing of their career. Giovinco is the archetype DP for this league."
"I don't care to see more DPs come to MLS. I'd like to see them move guys who have been in the league a long time into DPs."
---
Does the Chinese Super League's spending power threaten MLS' ability to compete for top talent?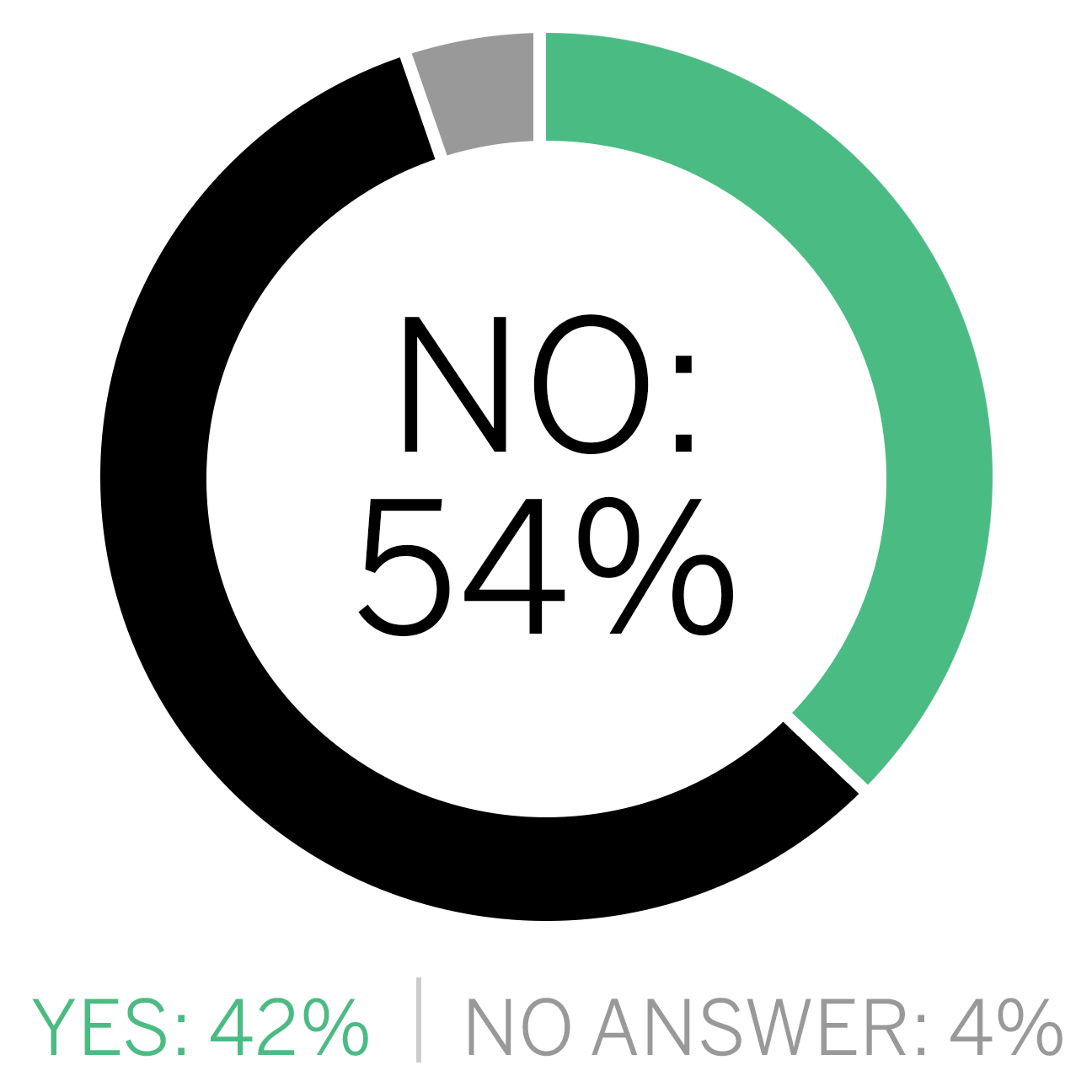 What the players said:
"I think as long as they have that limit of three foreign players on the field, no."
"Maybe, but I think the majority of them would still rather live in America."
"If a guy can make $6 million in MLS or $20 million in China, he's going to go to China."
---
Who is the most overrated player in the league?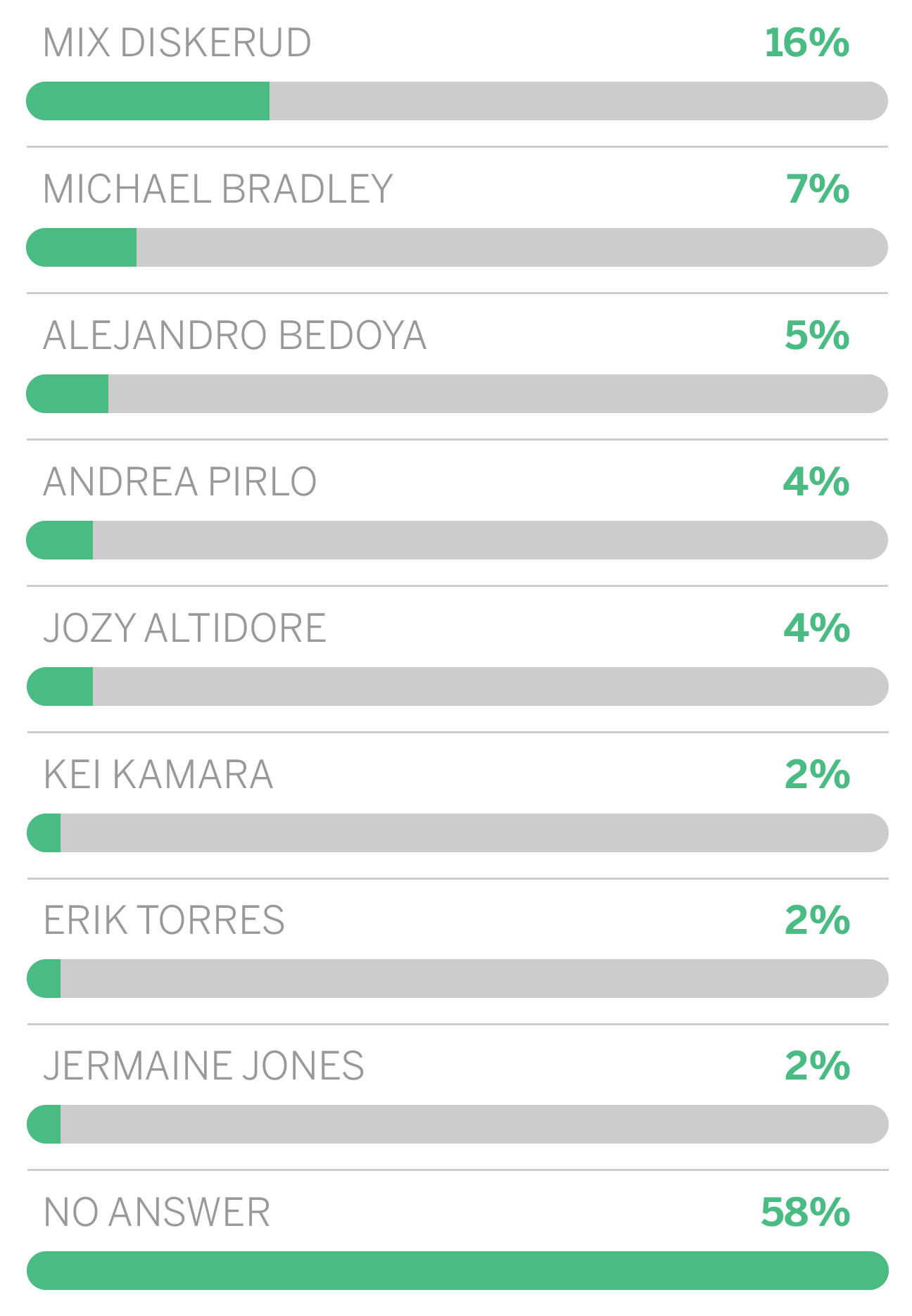 What the players said:
"For what he came here to do, and what he's done and not done, it has to be Mix."
"I'll go for Pirlo. The class is there, but his effectiveness isn't there anymore in terms of mobility and perceived interest."
"Michael Bradley is a good player, but not for the money he's getting paid and the hype around him."
"It's harder to pick one than in years past, which is a good thing."
---
Who is the most underrated player in the league?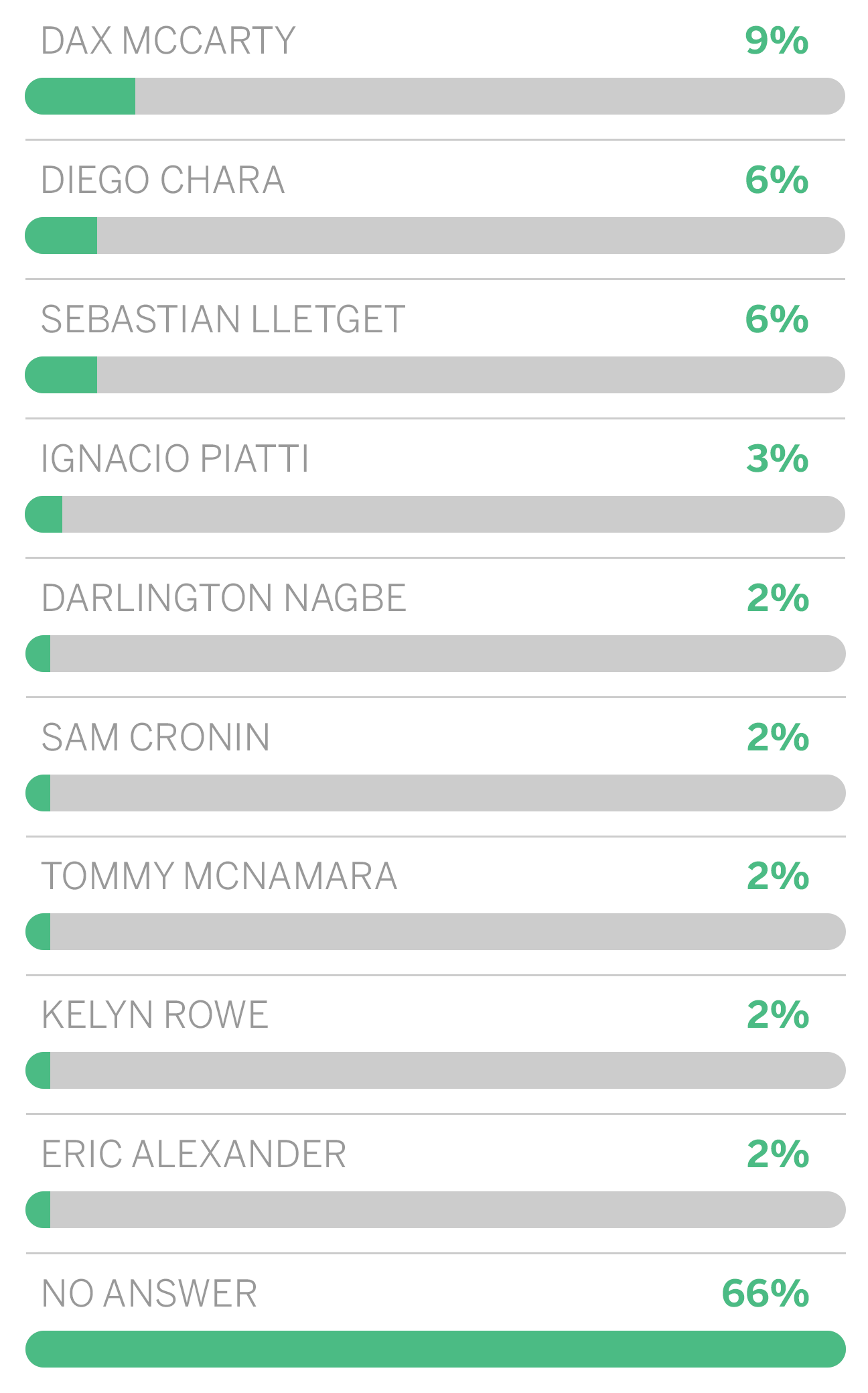 What the players said:
"Dax McCarty. I think he does everything. You talk about guys that are solid at everything. He's not solid; he's very good at everything. He does everything very well."
"Diego Chara. He's someone where you don't see it, but the work rate is there. He runs like 7-8 miles a game on average. His engine is ridiculous."
"Jozy Altidore. He takes so much crap, maybe because when he was younger people thought he was supposed to be this world-beating No. 9. But he's really good at what he does, and people don't appreciate it."
---
Which side has the best, most vocal, home support?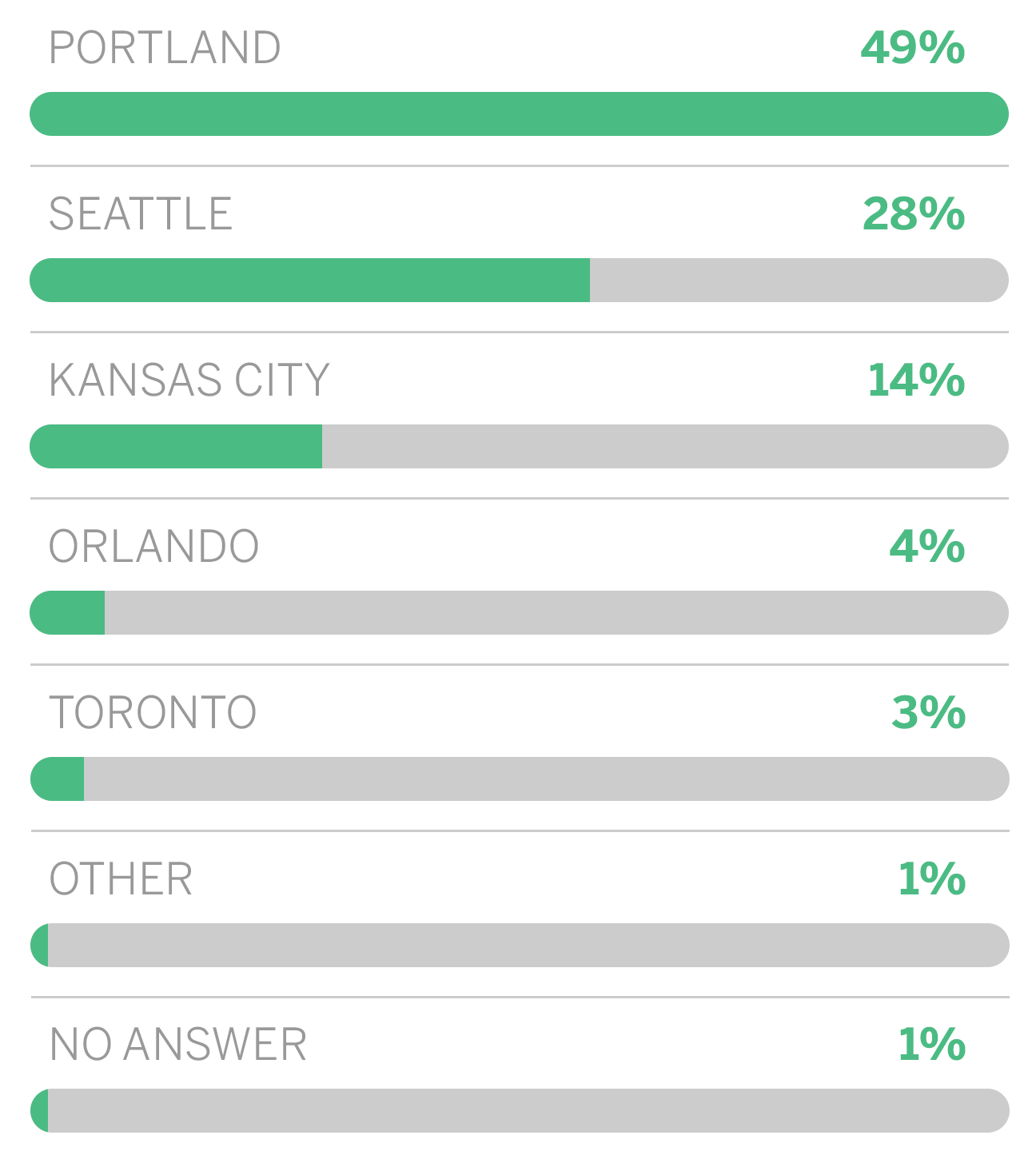 What the players said:
"Portland. I just feel the stadium is right on top of you. It's just a tough place to play. It could be raining; it could be cold."
"Seattle. It honestly is a 12th man. The supporters' section is massive. The other fans are very vocal as well. It's very loud; communication on the field is tough."
"Kansas City. You can feel the atmosphere in there, that they're behind the team. I don't know if it's because the fans are so close to the field."
---
Was Bruce Arena the right man to replace Jurgen Klinsmann as U.S. head coach?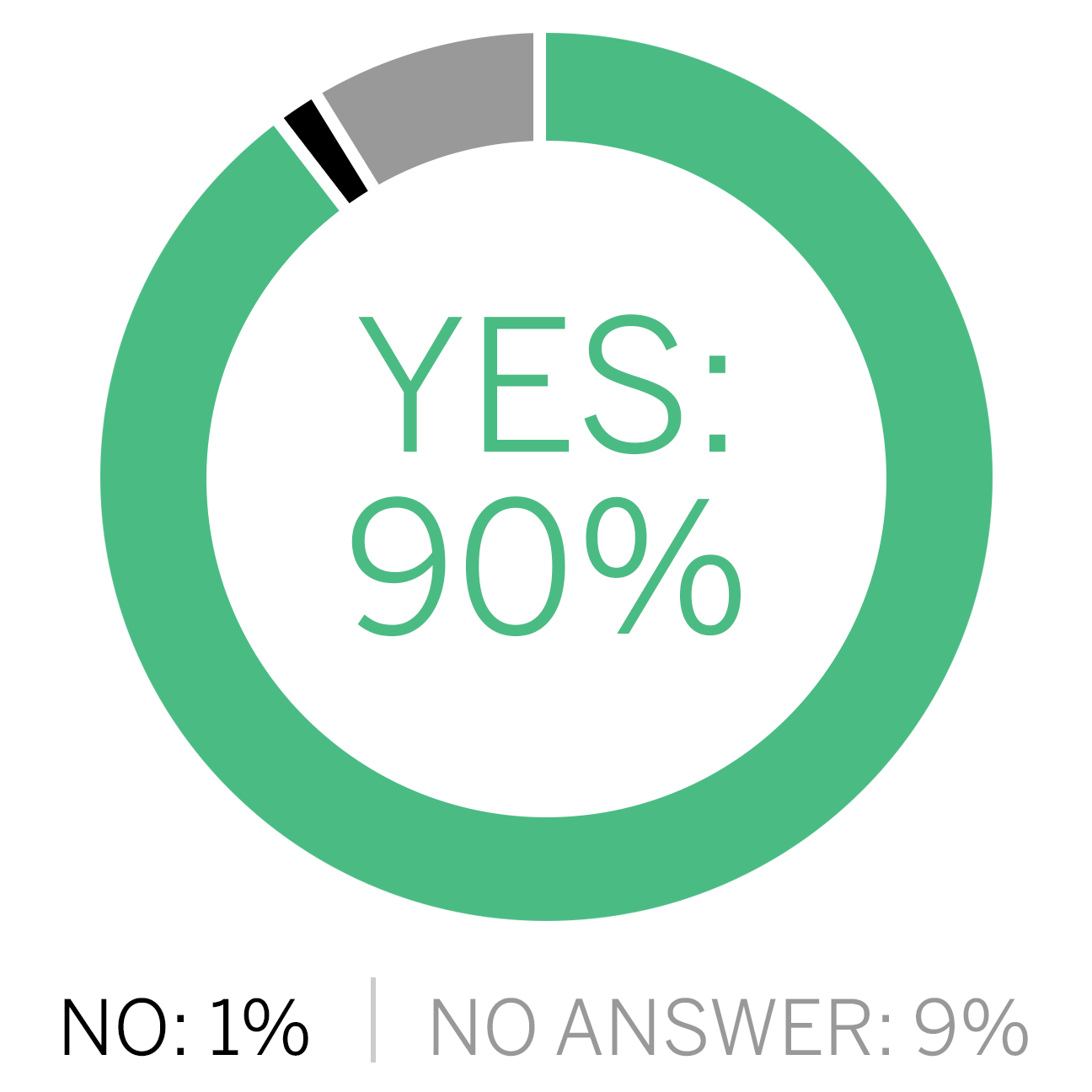 What the players said:
"He's very simple in how he sees the game, and he knows how to qualify through CONCACAF. Right now that's our biggest challenge."
"For the job of getting to the World Cup, yes. Then we can look for a long-term replacement."
"I think it's a step backward."
---
Does the USMNT benefit when its players leave Europe to compete in MLS?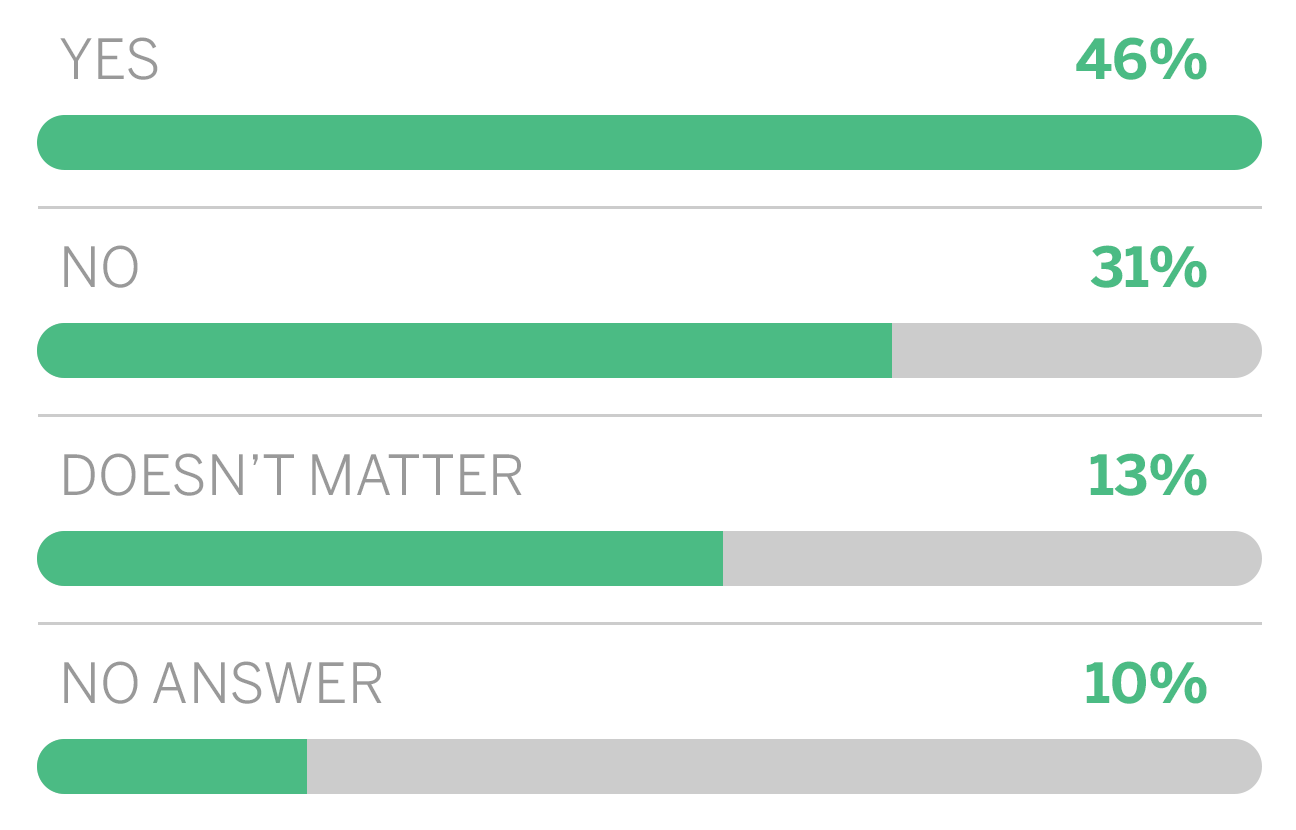 What the players said:
"Look at the January camp. They get to spend more time together, which is hard for other national teams to do. Players playing all over the world have a tough time getting in sync. Having the U.S. players close to home is an advantage."
"Europe is where the best leagues are. To come back to MLS, you're promoting MLS, but you're not doing yourself and your country any favors."
"It's all about a mentality. You can't come back and take days off. This league is on the come-up. Guys who think it's easy usually don't do too well."
"All of their games have not necessarily deteriorated, but have gotten worse from when they were playing overseas."
---
Should MLS games be played during FIFA international breaks?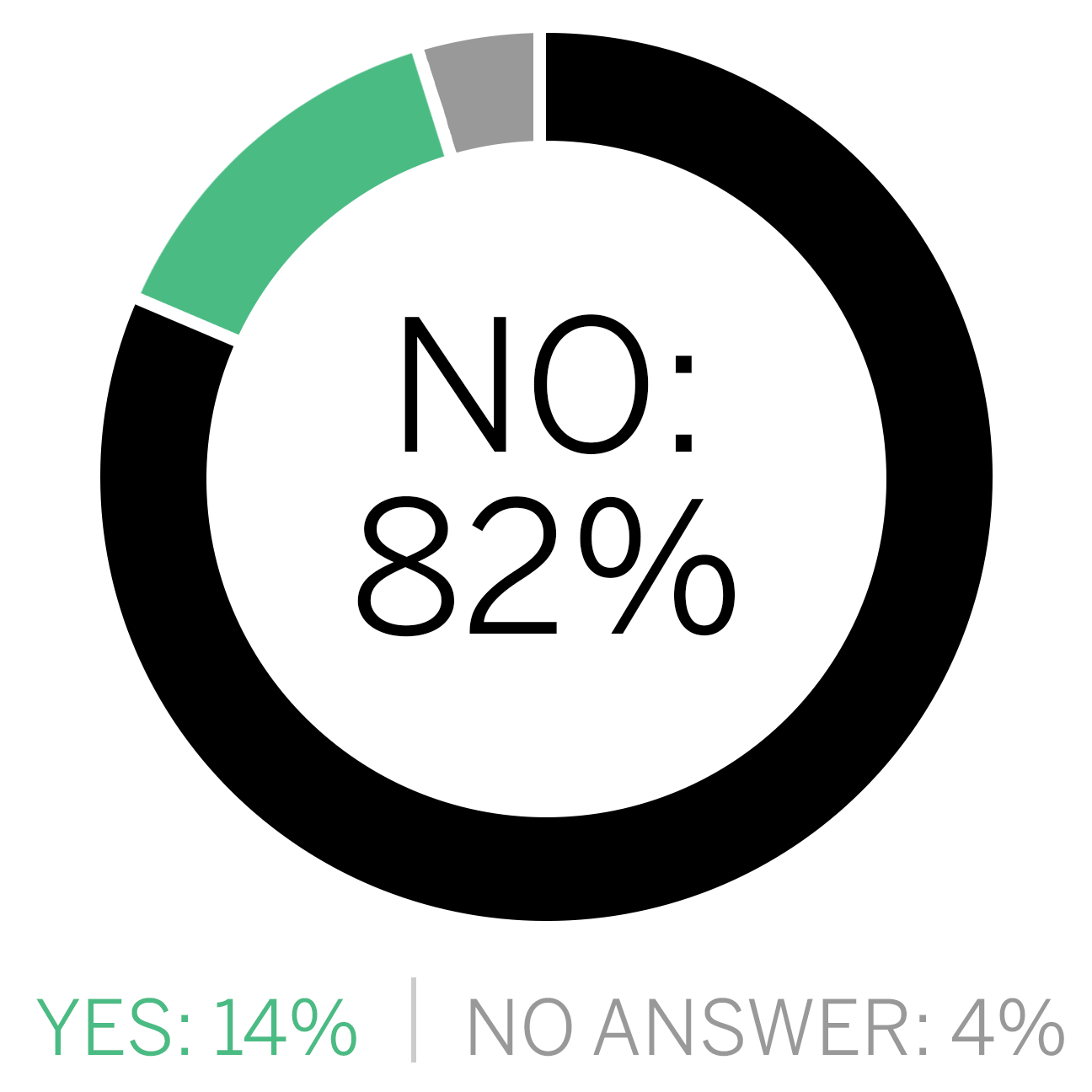 What the players said:
"If our league wants to be taken seriously, we shouldn't have games just like the rest of the world doesn't."
"It adds some flavor to the league. For younger guys who are looking to make it, it's a good opportunity. And I think it shows who the best teams are, who has the best depth."
"I don't know how you work around the schedule."
---
Were you surprised that Landon Donovan came out of retirement?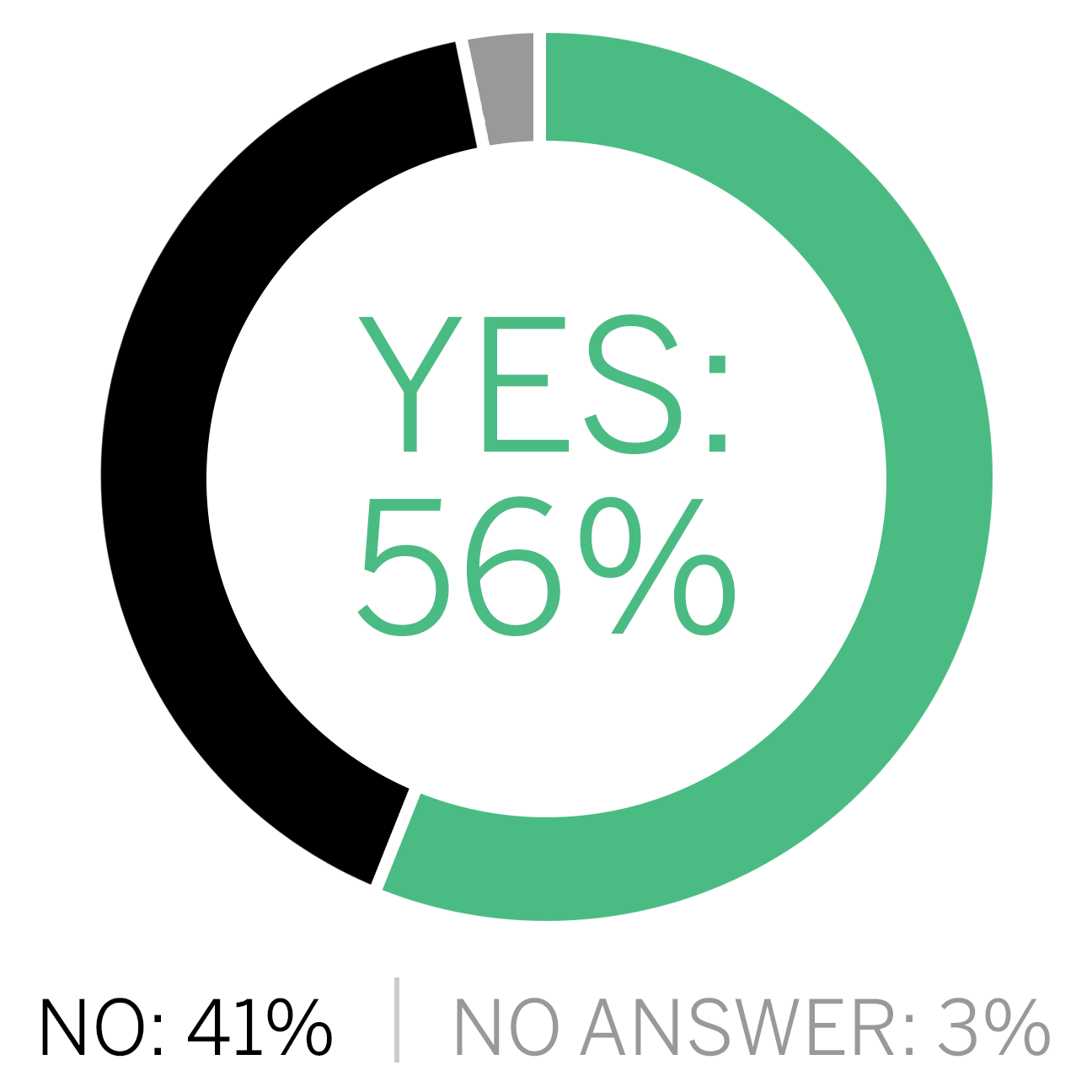 What the players said:
"He's like Michael Jordan. It's not like he can't do anything else, but he still gets enjoyment out of playing."
"He played soccer for so long, and every single game I played against him, I thought he was just done. I thought he wanted to get away from it."
"I told my wife and my friends on the day that he retired that I thought he would make a comeback at some point."
Reporting by Jeff Carlisle and Doug McIntyre.