Extra Time: World Cup snubs, Salah vs. Kane and more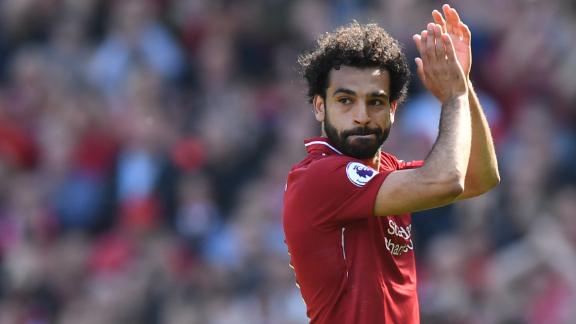 Ream: Fulham's season nice distraction from U.S. failure
Tim Ream revisits the USMNT's World Cup failure with ESPN's Alison Bender and explains how it has helped him in Fulham's fight for promotion.
Will the UCL final be a thriller or a stalemate?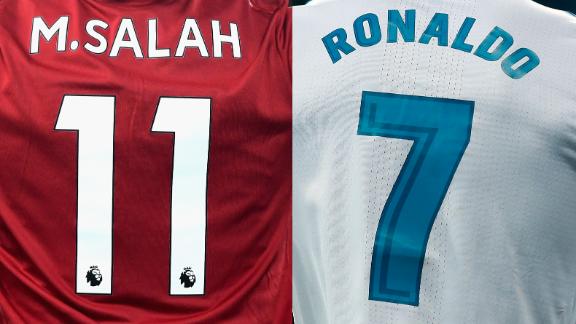 Will experience be the deciding factor in the UCL final?
The ESPN FC crew discuss Jurgen Klopp's comments on the role experience will play in the Champions League final.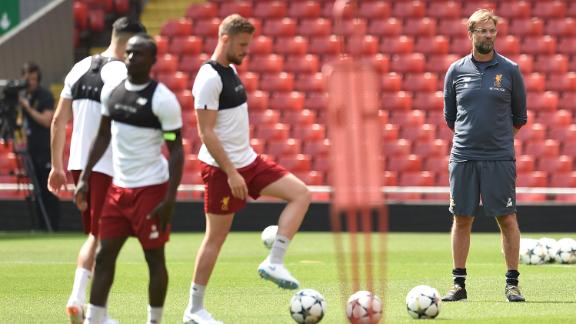 Will the UCL final be a thriller or a stalemate?
Gab Marcotti and Stewart Robson examine the styles of Real Madrid and Liverpool and how they combine to set up a potentially thrilling UCL final.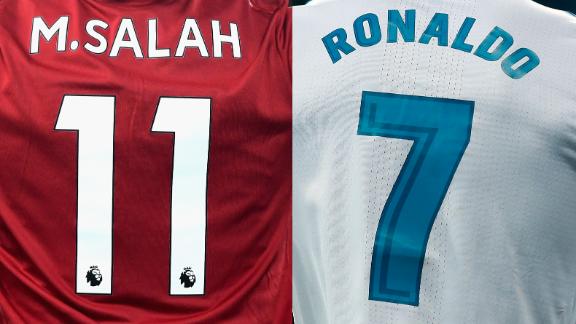 Zidane: If you criticise Ronaldo, be careful
Zinedine Zidane issues a warning to any doubters who are writing off Cristiano Ronaldo ahead of the Champions League final.
Inside Liverpool's Champions League final preparations
As Liverpool head to Kiev, a look behind the scenes at Anfield as Salah meets Lampard, van Djik nutmegs Lovren and ESPN meets Wijnaldum.
BBC vs. Fab Three: Who will come out on top?
Ahead of Saturday's final, take a look back at how the front three for Real Madrid and Liverpool have performed this Champions League season.
Ramos: Real want to prove we're Kings of Europe
Captain Sergio Ramos hopes Real Madrid can win third consecutive UEFA Champions League title.
Klopp: Liverpool will have a little pre-season ahead of UCL final
Liverpool boss Jurgen Klopp revealed he will take his players on an overseas break ahead of the Champions League final against Real Madrid in Kiev.
Moreno: Morata's Chelsea form left Lopetegui no choice
Alejandro Moreno and Shaka Hislop believe Alvaro Morata's regression in a Chelsea uniform cost him his chance at making Spain's World Cup team.
Will Argentina regret Mauro Icardi snub?
After Mauro Icardi's big season for Inter, the FC crew question his omission from Argentina's 23-man squad for the World Cup.
Mariner: Belgium stupid to omit Nainggolan
Paul Mariner says the World Cup will be a sadder place without Radja Nainggolan, after the midfielder was left out of Belgium's provisional squad.
Marcotti: Inter's summer gamble pays off with top 4
Gab Marcotti explains how Inter's big decision in the summer proved decisive to securing Champions League football for the first time since 2012.
Why FA Cup win changes nothing for Conte and Chelsea
Despite winning the FA Cup this season, the FC crew agree Antonio Conte has likely coached his final match for Chelsea.
How success is being redefined at Man United
Alejandro Moreno and Shaka Hislop question Jose Mourinho's positive outlook after Man United's loss to Chelsea in the FA Cup final.
Is criticism of Robert Lewandowski justified?
With former Bayern Munich stars lining up to criticise Robert Lewandowski's impact, the FC crew assess whether such comments are necessary.
ESPN FC Best of the Week
Check out the best moments from the week on the ESPN FC set, including Steve Nicol's dancing skills and Sebastian Salazar's wedding.
Villafana: Liga MX title more important than stolen money
ESPN FC's Tom Marshall catches up with Jorge Villafana, who helped Santos win the Liga MX title two days after being robbed at gunpoint.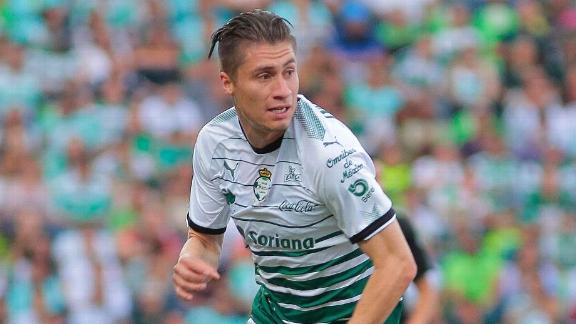 Reading between the emojis of Willian's Instagram post
The FC crew interpret what Willian's now-deleted Instagram post says about Chelsea players' relationship with Antonio Conte and Conte's future.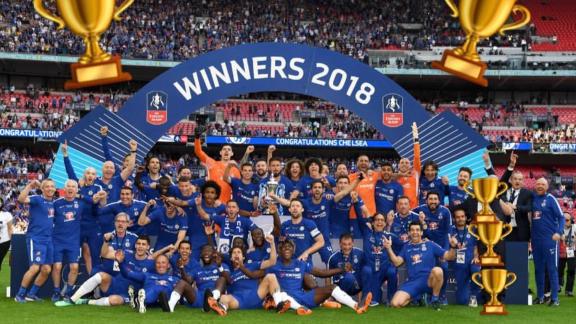 Is Iniesta the best Spanish player of all time?
After Andres Iniesta's last game for Barca, the FC crew assess his place among Spain's greats and whether he can go out on top at the World Cup.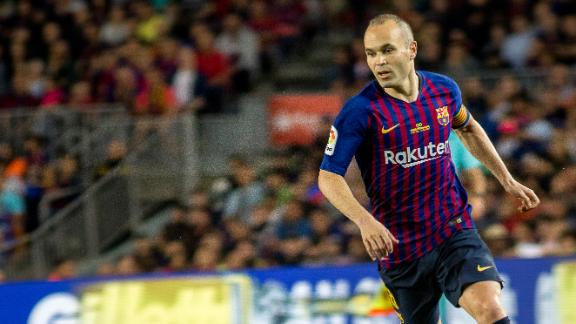 The 2018 World Cup won't have Italy or the U.S. but all the big hitters like Brazil, Germany and Argentina will battle. Get the info you need here.

David Merrell

Top-class football is changing before our eyes: The "storming" era of the game is leaving the likes of Jose Mourinho and Arsene Wenger behind.

Dave Merrill

"I never walk out of games early but in these circumstances, staying seemed like a form of self-harm." Nick Hornby on the last days of Wenger.

USA Today

Who should be blamed for the U.S.' World Cup qualifying failure? Do young American players get sufficient playing time? What about pro / rel, salaries and dream signings?

Trey Ingram

Our intrepid writer suffers -- and suffers some more -- through a player medical at Everton.

Getty

We can support the World Cup -- and the players -- without supporting the world's ugliest regimes such as the 2018 hosts, Russia.

adidas/puma/nike

A look at all the confirmed jerseys so far from the 32 teams at Russia 2018.

Gabriele Maltinti/Getty Images

"Davide Astori ... One of us!" Wright Thompson was present as a city bade farewell to its captain.

Dave Flanagan

The world's top soccer players, ranked by position.

Brian Konnick

We select the best players under 21 who are primed to rule the football galaxy.

ESPN Illustration

The 19-year-old discusses the U.S.' World Cup failure, his development at Borussia Dortmund and his future.

Brian Konnick

Andrea Pirlo, football's undisputed King of Cool, has officially retired. So who will take over the mantle? We pick four compelling candidates.

ESPN Illustration

You know the kind of player who just divides opinion wherever he goes? Well, ESPN FC has picked out seven of the best.

Aaron Dana

Cristiano Ronaldo isn't just one of the greatest on the pitch; he's the G.O.A.T. off it, too. Take a trip inside the mad world of CR7's brands.

ESPN

MLS Rivalry Week is full of contentious clashes. Here are some of the best in unique video game format. Ready ... FIGHT!

EPA/FERNANDO BIZERRA JR

In November 2016, Brazilian underdogs Chapecoense boarded a plane to play in the game of their lives. Instead, their biggest moment turned into a tragedy no one can forget.

Jean Catuffe/Getty Images

Simon Kuper explains how it became the best and deepest source of soccer excellence.

David Ramos/Getty Images

The January transfer window is closed; here are all the completed deals.

ESPN

Who wields the most influence in the world game, those men and women who have some combination of money, authority and power to shape the sport?

espn

The summer transfer window (open from July 1 to 11 p.m. GMT on Aug. 31) is always a volatile and exciting time for clubs, players, agents and fans alike. Here's what happens.
Customise ESPN