Will new signing Vlahovic secure Juventus a top-four finish?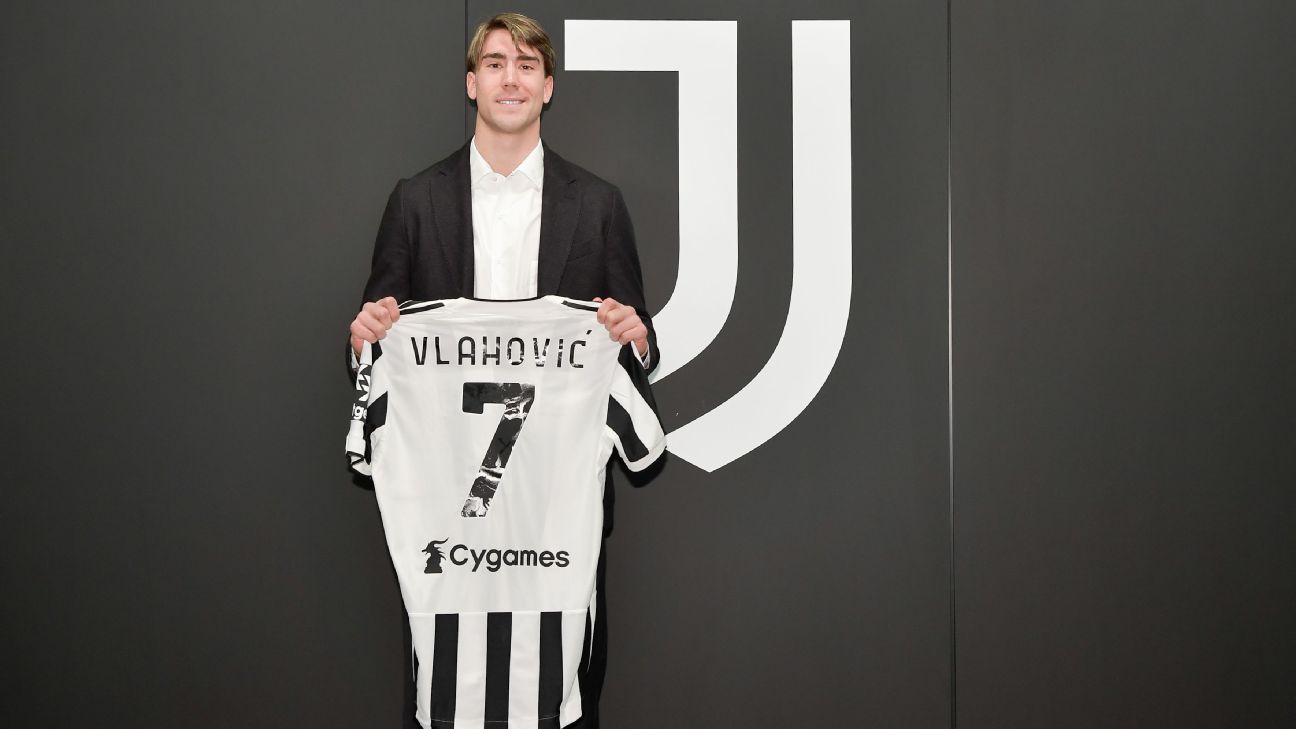 Shaun Botterill/Getty Images

At the halfway point of the season, it's a good time to pause and reflect on the teams, players and matches that have defined 2021-22 to date.

PAU BARRENA/AFP via Getty Images

The Spanish superclub is on the brink of financial ruin, lost Lionel Messi to PSG and has its fifth manager in less than two years. The only way is up.

Illustration by ESPN

ESPN's annual ranking was selected by 77 global experts and is broken down into Top 10s for every position on the pitch as well one for the managers.

Courtesy of Soccrates / ESPN NL

Richy Ledezma had made his first U.S. appearance and was breaking through at his Dutch club, PSV. Then serious injury gave him his biggest challenge.

Illustration by ESPN

Who will be crowned champions of ESPN's Battle of the Leagues, presented by EA Sports FIFA 22? Will Ligue 1 or the Premier League reign supreme?

Courtesy of Barcelona residency academy

Americans are making an impression on the global game, and Europe's biggest clubs are now rivaling MLS for the country's most gifted young players.

Peter Powell Powell/EPA

Cristiano Ronaldo is back and the club is one of the biggest in the world. But what does that mean to local fans, pushed out by the global game?

Brent Humphreys for ESPN

After a superb start for the USMNT, Ricardo Pepi is ready to take on the world. Wherever he goes, he will carry his borderland hometown with him.

Illustrations by Freak City

Spain's top flight has arrived on ESPN+ and, if you do not have a favorite team from LaLiga, here is a handy guide to all 20 to help you decide.

Nick Potts/PA Images via Getty Images

In the span of 48 hours, Cristiano Ronaldo left Juventus and, after seemingly agreeing a move to Man City, went back to Man United instead.

Tim Clayton/Corbis/Getty Images

Simeone embodies everything that is cool about Atletico Madrid: Gritty, intense and a LaLiga champion, he tells ESPN what makes him tick.

ESPN Illustration

It's time to dive into the most exciting thing about the 2021-22 Premier League season: the kits each club will be wearing.

Aurelien Meunier - PSG/PSG via Getty Images

As August began, everyone thought Lionel Messi would remain a Barcelona player. Before the month reached its halfway mark, he was unveiled by PSG.

JONATHAN NACKSTRAND/AFP via Getty Images

Following the national team star's shocking cardiac arrest, Denmark rallied in support of Christian Eriksen with a tribute-filled Copenhagen mural.

Alexander Wells

The unthinkable happened: Lionel Messi left Barcelona. But as this interactive timeline shows, he will be known as the club's greatest-ever player.

JUAN MABROMATA/AFP via Getty Images

In 2020, Gomez became the first transgender woman to play professionally in Argentina. She talks to ESPN about her remarkable journey.

ESPN Illustration

Welcome to the next generation! Players from 15 countries and six leagues are named by Tor-Kristian Karlsen, a former scout and sporting director.

Laurence Griffiths/Getty Images

The 2020-21 Premier League campaign was unlike any other. ESPN talked to people around the game about their experiences and lessons learned.

ESPN Illustration

Welcome to the next generation of women's stars. With Catarina Macario leading the way, our list is dominated by players from the U.S. and England.

Photo by James Williamson - AMA/Getty Images

The defender tackled his anxiety and mental health head-on at Fulham. Now he wants to help others do the same and normalise the conversation.

Mary Beth Koeth for ESPN

After a disappointing first year for Inter Miami in MLS, David Beckham risks the one thing he's spent a career trying to avoid: public embarrassment.

ESPN

An American World Cup winner is No. 1, followed by an Australian star forward, in an ESPN FC and espnW celebration of the sport's elite.

Marcelo Boeri/El Grafico/Getty Images

On Dec. 14, 2000, Barcelona agreed a deal that would take Lionel Messi to Spain and change the course of soccer history. Here's how they did it.

ESPN

Borussia Dortmund striker Erling Haaland is writing history with every game he plays, and he is only 20 years old. But the Norwegian wants a lot more.

Brad Smith/ISI Photos/Getty Images

"Moving forward, it's going to be nice to distinguish that yes, [Dennis] was a successful NBA player, but I am going to be a successful NWSL player."

ESPN Illustration

Messi or Maradona? Is Pele Brazil's No. 1? Dempsey or Donovan in the U.S.? What about England? We try to settle the debates.

AP Photo/Carlo Fumagalli

Diego Maradona is gone, but as Lionel Messi put it, "he'll be with us for eternity." As well as his legacy, the scope of his talent and humanity will endure.

ESPN Illustration

Man United's invisible grey, Liverpool's 'Crystanbul' attire, Barcelona's Tequila Sunrise; there have been some shockers. But only one had tassels...

David Inderlied/picture-alliance/dpa/AP Images

The son of 'Captain America' and a USWNT international, the teenage midfielder is a rising star for Bundesliga club Borussia Dortmund.

Getty

My message is simple, writes Shaka Hislop: Whether you speak out or stay silent, show up and be a part of the movement.

Timothy A. Clary/AFP via Getty Images

On its 10th anniversary, Landon Donovan and others relived the goal that beat Algeria and took the U.S. to the 2010 World Cup knockout rounds.

ESPN Illustration

Look away now, Fernando Torres, Mario Balotelli and Bebe; Bill Barnwell is back to reveal the worst moves in Premier League history.

Matthew Ashton/EMPICS via Getty Images

In 25 seasons since the league began, MLS has come a long way. We reflect upon the its early days with those who were there.

Shaun Botterill/Getty Images

What's ahead in the Premier League, Champions League, LaLiga, Bundesliga, MLS and more.

Getty

Updates, results from Premier League, Champions League, LaLiga, Bundesliga, MLS and more.

Alberto Saiz/AP Photo

Updated standings from the Premier League, Champions League, LaLiga, MLS and more.
Customise ESPN