Liverpool's players went wild after they added the FIFA Club World Cup to their UEFA Champions League and Super Cup crowns to complete a continental treble for 2019 ...
The Toe Poke Daily is here every day to bring you all the weirdest stories, quirkiest viral content and top trolling that the internet has to offer, all in one place.
Jump to: Pochettino reveals he's still driving Tottenham chairman Levy's Bentley | Mbappe Claus hands out Christmas presents at PSG | Mendy tries to start new headwear trend. Fails.
Liverpool were crowned champions of the world on Saturday as they emerged victorious in the FIFA Club World Cup final.
The biggest club football match in the world (well, technically at least) went the distance out in Doha, but eventually the Reds were able to see off Flamengo 1-0 with one of their now-customary late winners, courtesy of Roberto Firmino in the 99th minute.
It was the first time the Reds have lifted the trophy, and it rounds off a year in which they also became European champions for the sixth time and won the UEFA Super Cup, making them the first English club to win the "continental treble" (which is absolutely a real thing).
Liverpool are the first English team in history to complete the continental treble 💯 pic.twitter.com/d0SnJ19BsH

— ESPN FC (@ESPNFC) December 21, 2019
Liverpool boss Jurgen Klopp and his players have got rather used to celebrating in 2019, and the fun they were having on top of the world was captured perfectly in FIFA's official winners' portraits.
Of course, manager Jurgen Klopp always sets the tone when it comes to high spirits. Here he is giving props to his captain, Jordan Henderson.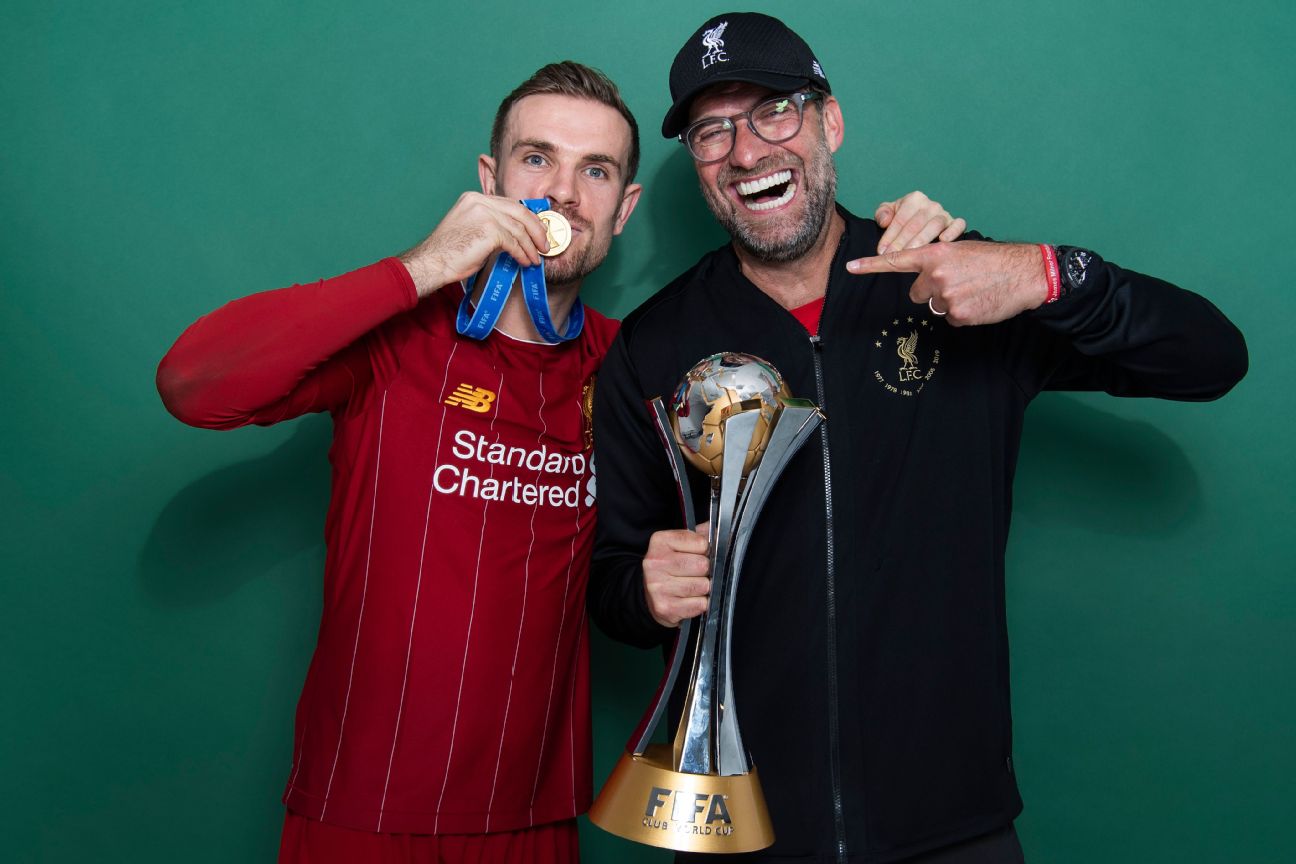 Trent Alexander-Arnold, 21, beams with the same wholesome pride he probably did when collecting his U7s participation awards. Loosen up, Trent!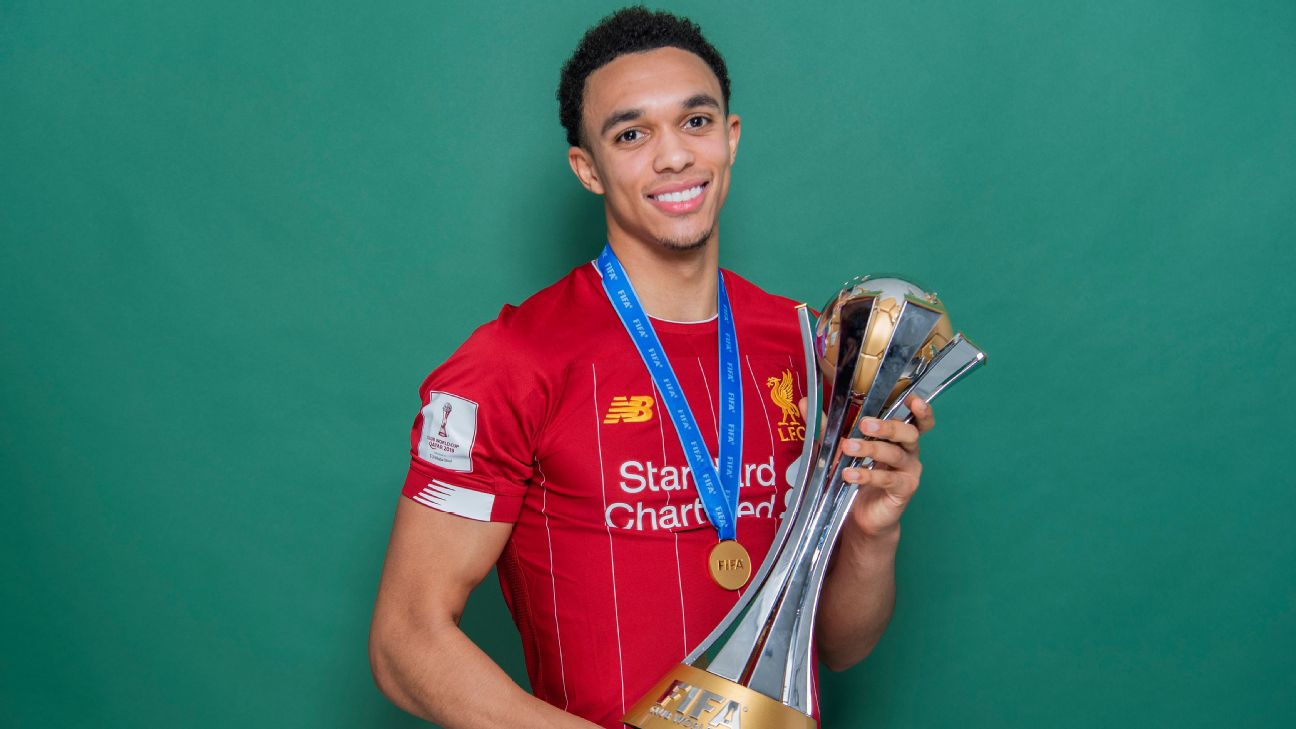 This one was taken from behind a two-way mirror into which Firmino has just asked: "Who scored the winning goals in the semifinals and the final to make Liverpool world champions? This guy!"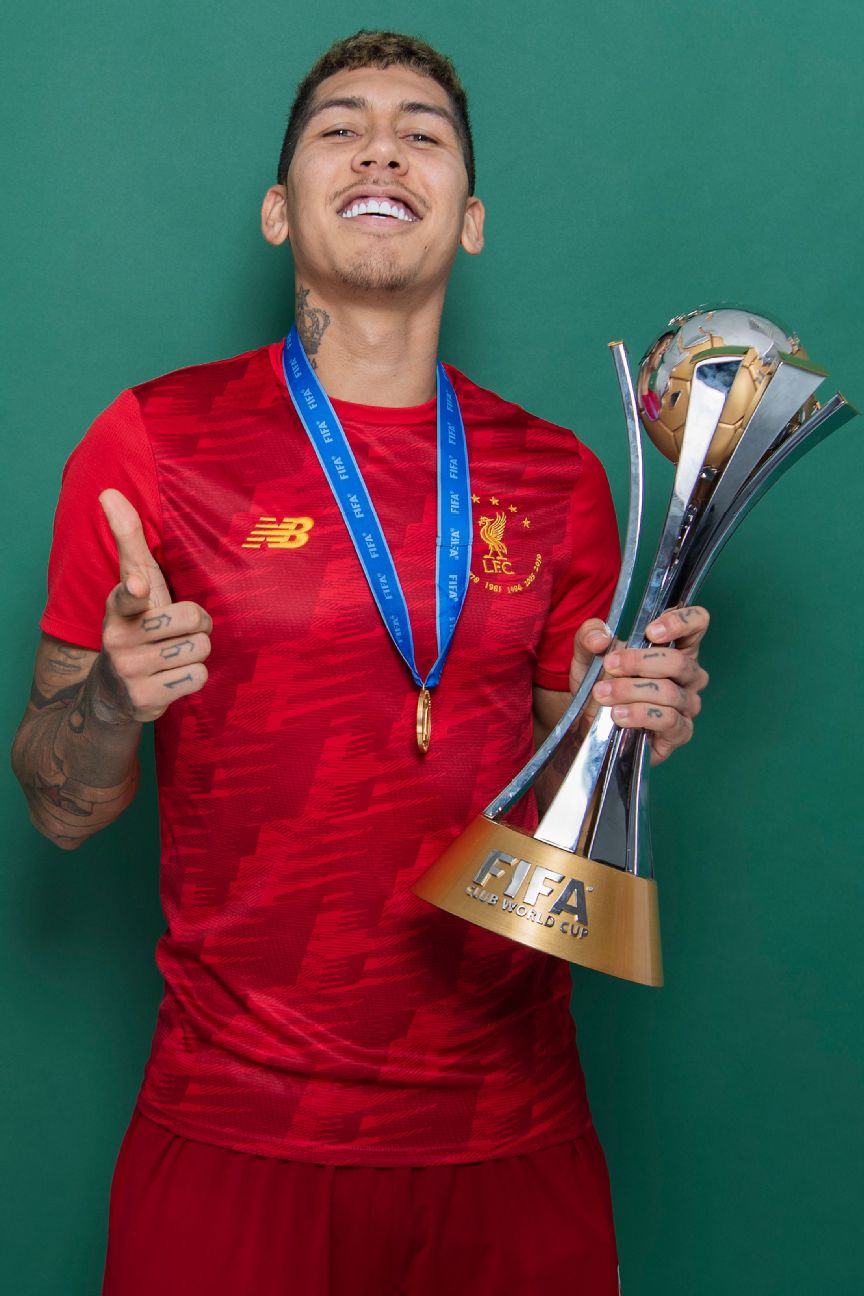 Firmino may have scored the goals in Qatar, but Mohamed Salah looks like he wants to be the one to take the trophy home.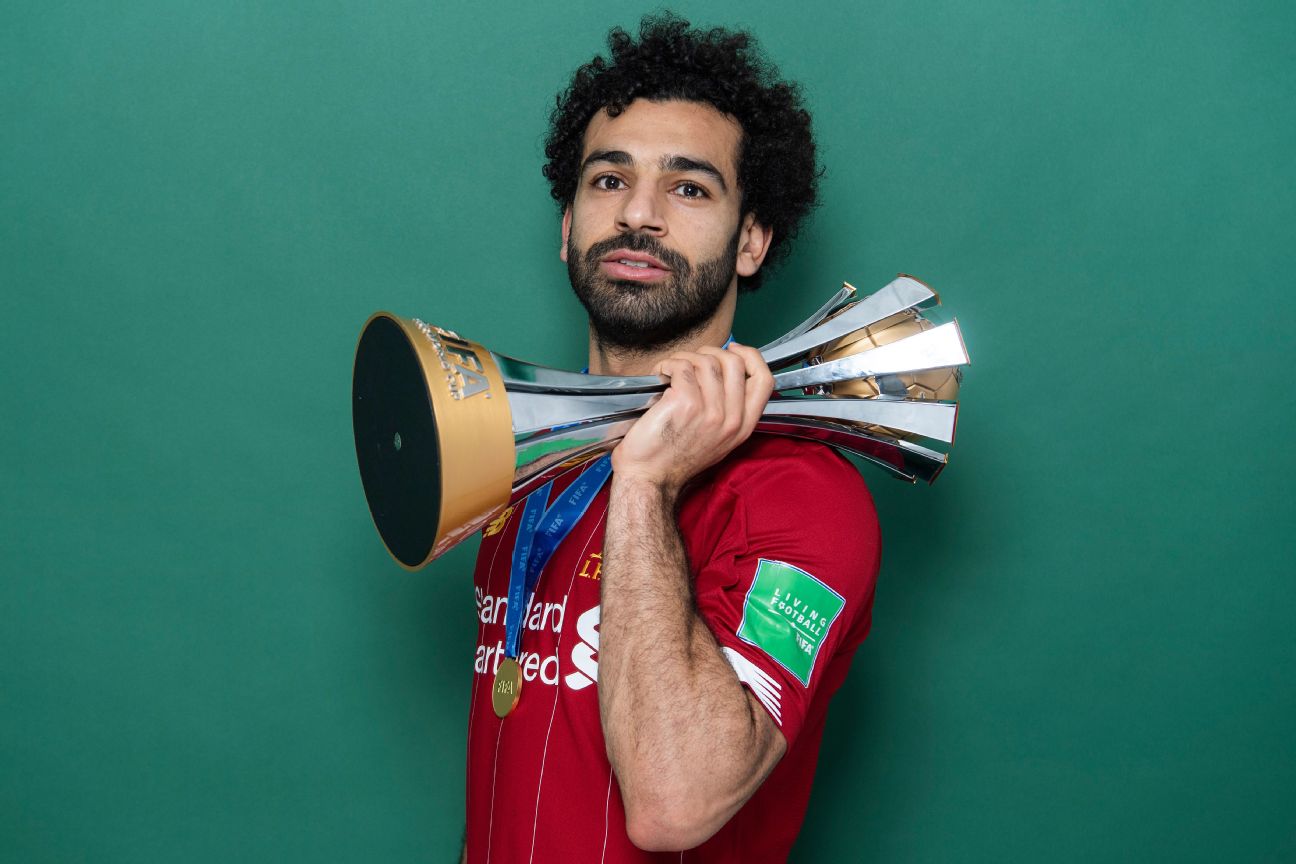 Stood behind his towering Netherlands teammate Virgil van Dijk, Gini Wijnaldum looks more like Mini Wijnaldum.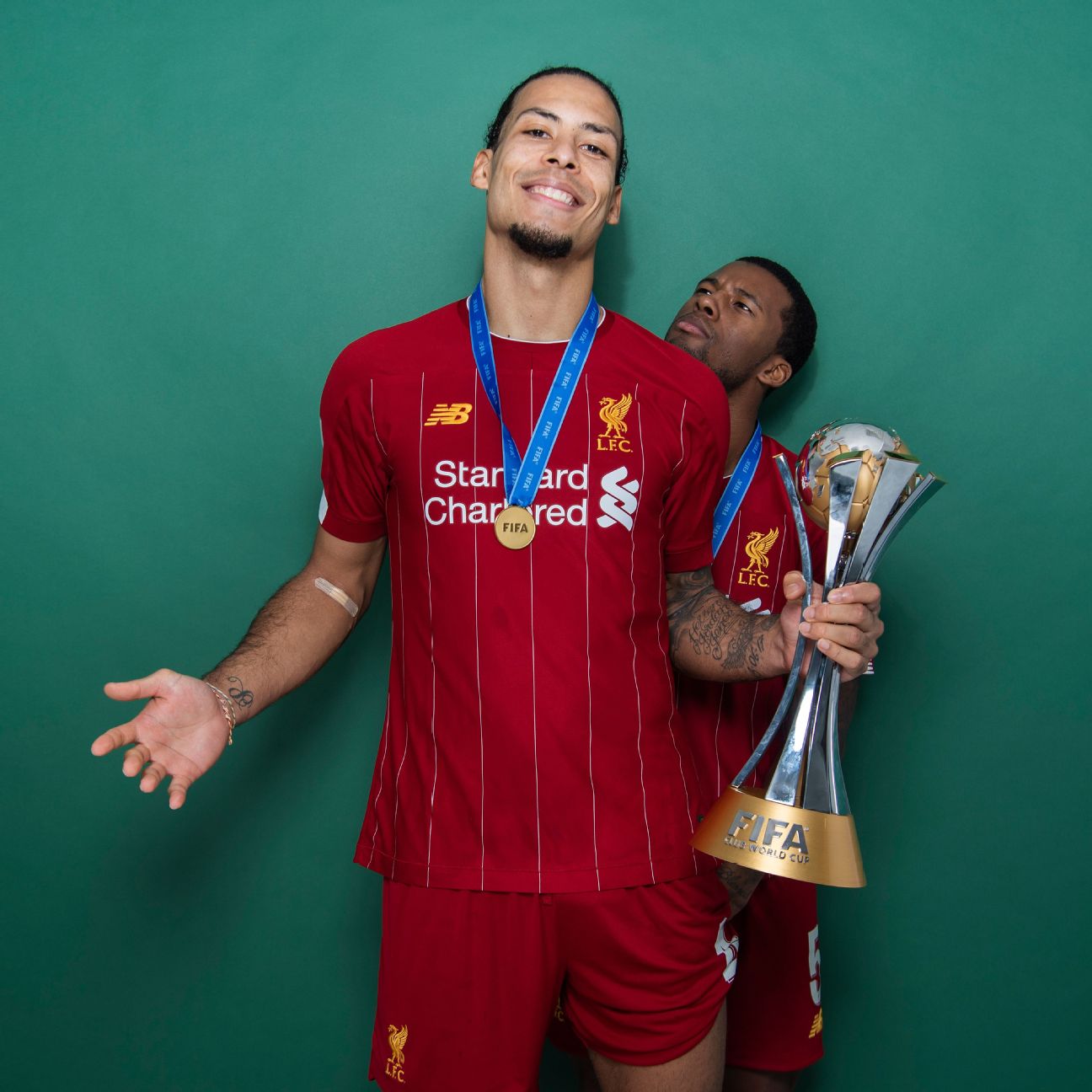 James Milner: "Who's boring now, huh?"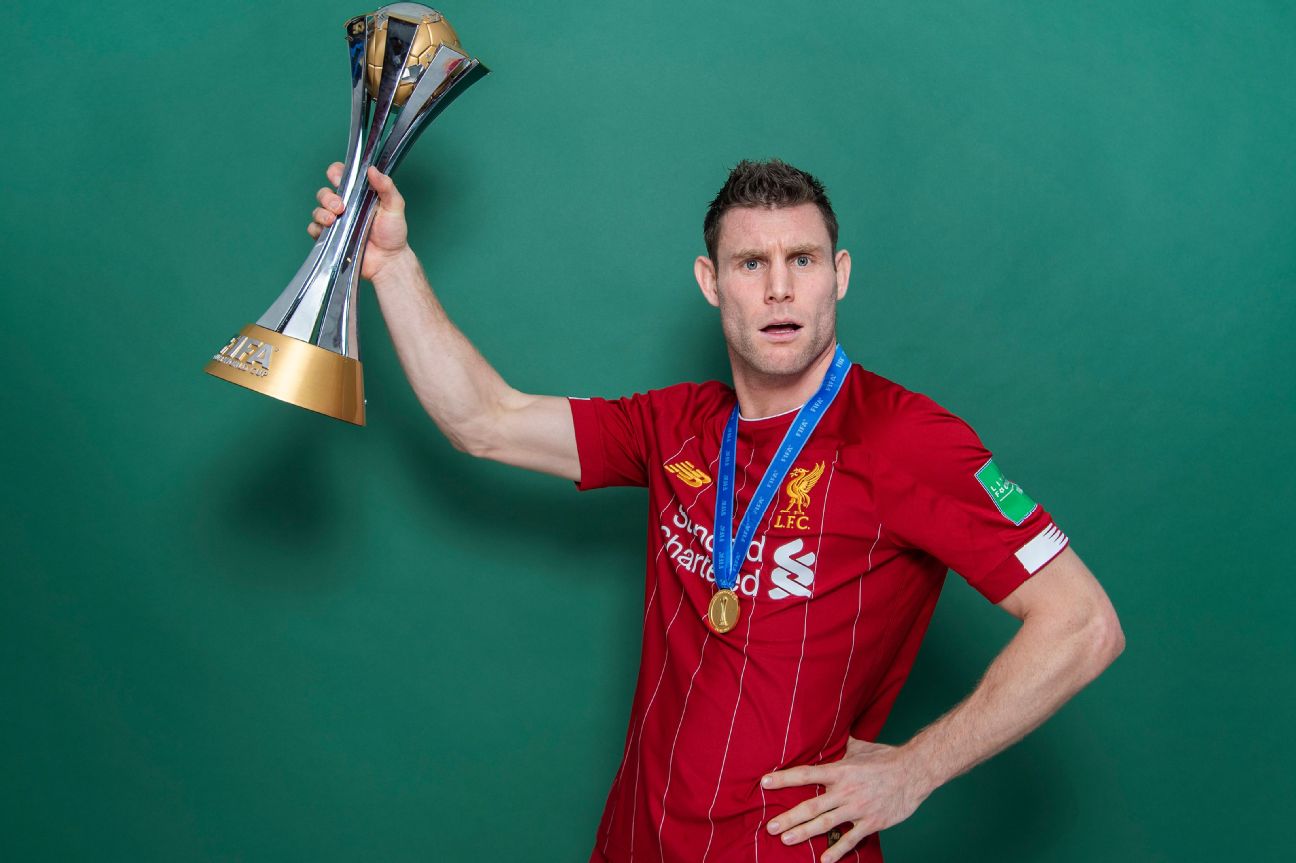 Adrian was a free agent after leaving West Ham in the summer. Now he's added a FIFA Club World Cup winners' medal to the UEFA Super Cup one claimed thanks to his penalty shootout heroics. But there's really no need to snatch the trophy out of poor Adam Lallana's grasp.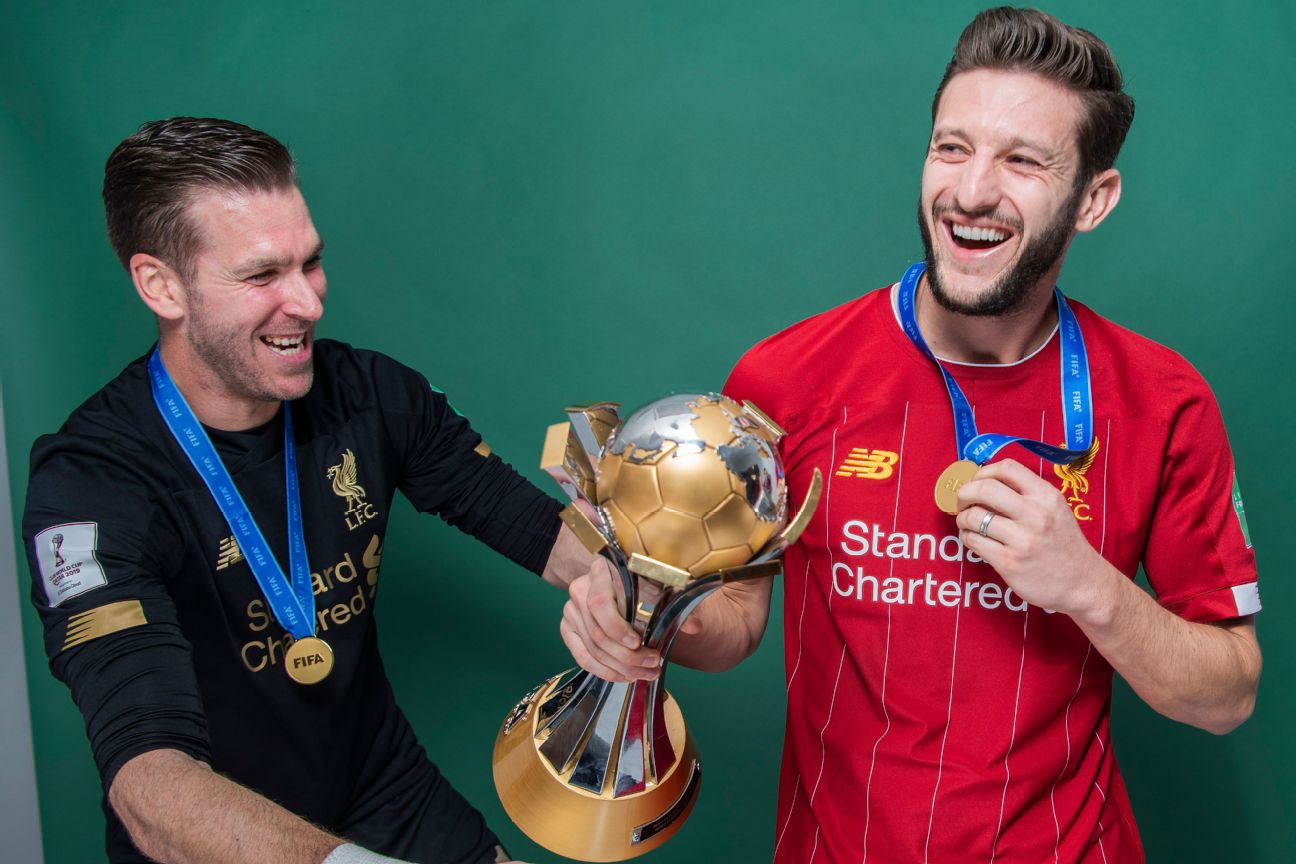 It appears Alexander-Arnold loosened up a bit as the photo shoot progressed.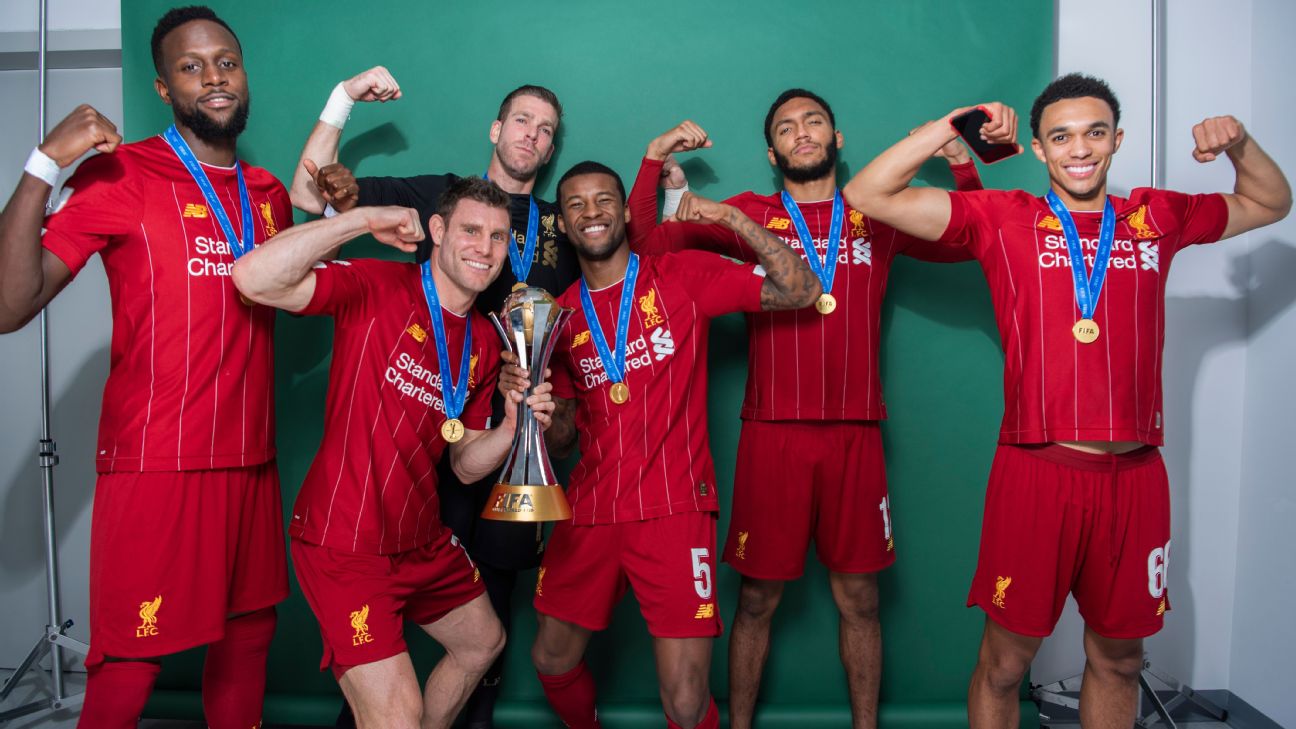 "Siri, show the definition of the term 'squad goals.'"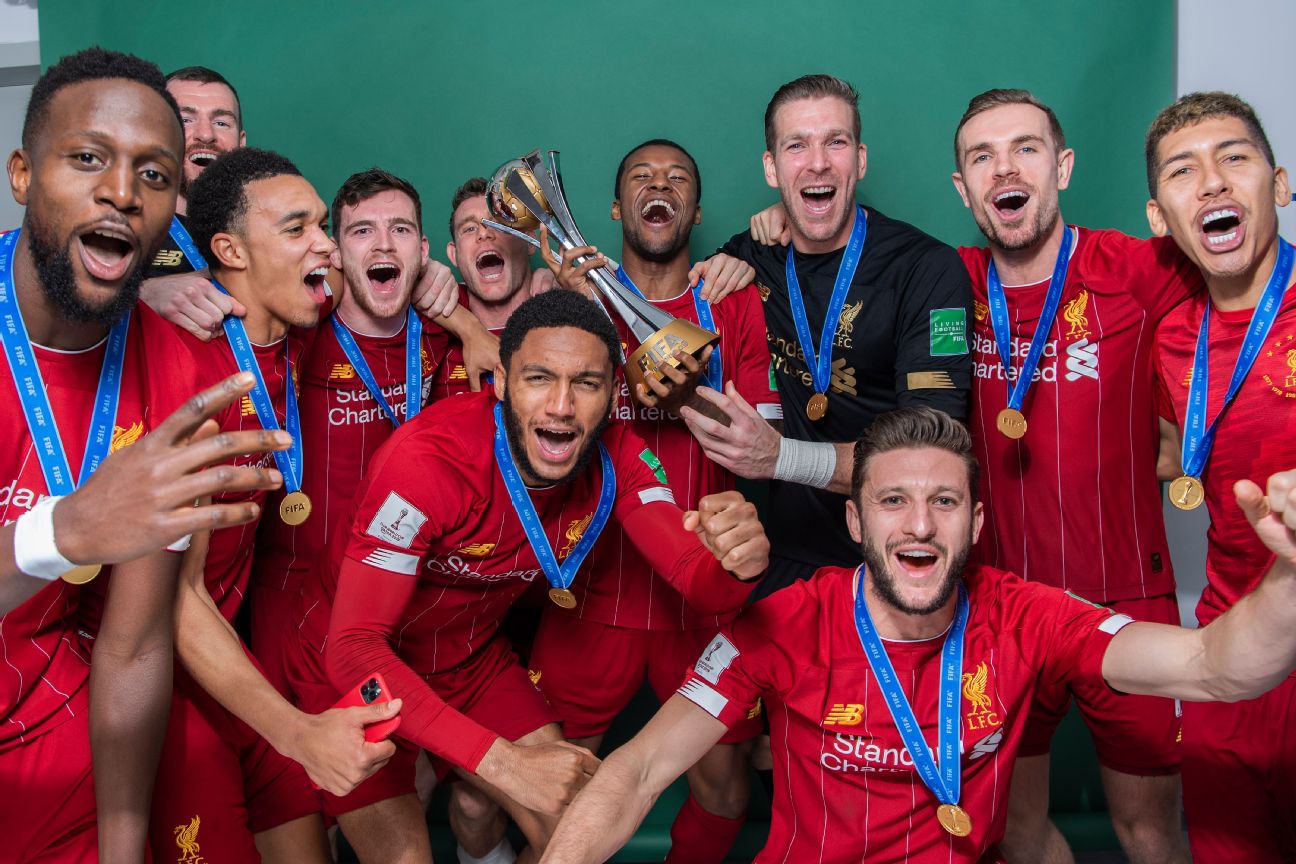 The whole gang then then decamped down to the beach in Doha for one last ensemble photo, in which they all graduated from Santa Claus University.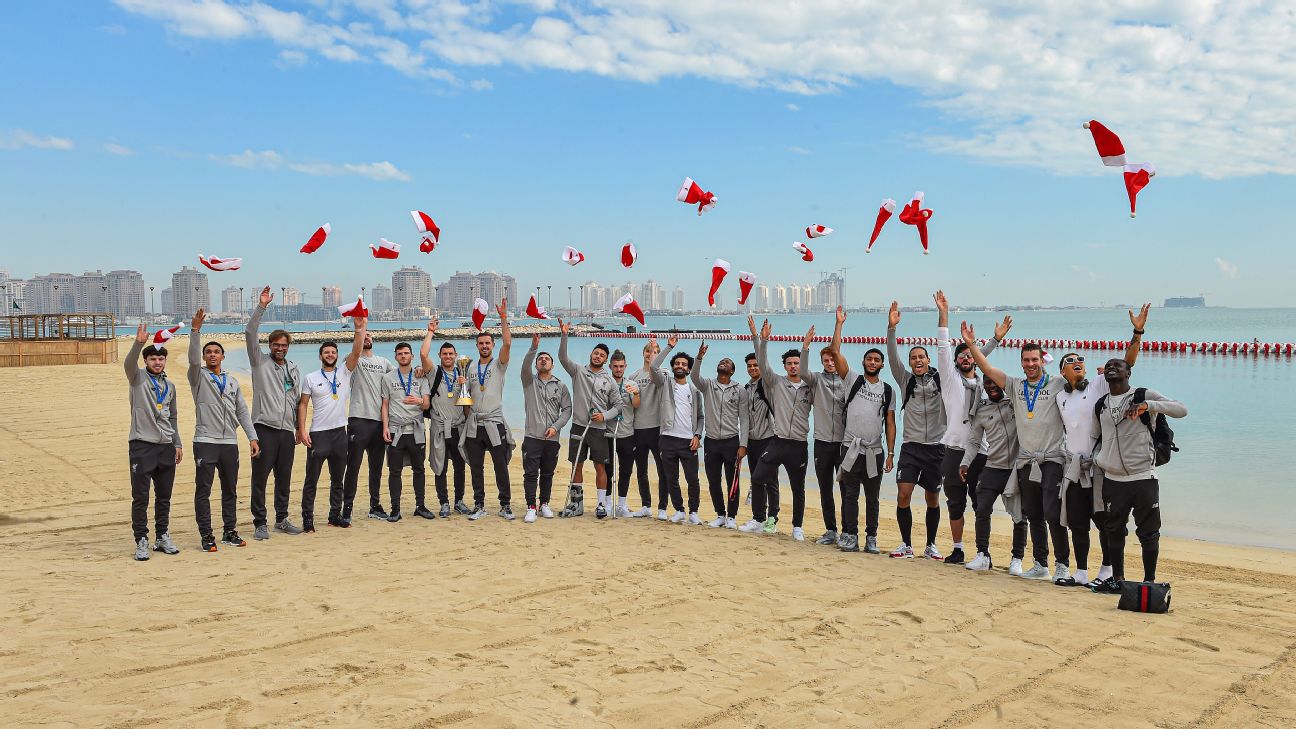 Pochettino reveals he's still driving Tottenham chairman Levy's Bentley
Mauricio Pochettino says he doesn't know if he'll have to return the Bentley that Tottenham chairman Daniel Levy gifted to him 🤷‍♂️ pic.twitter.com/t3hYcL9ymV

— ESPN UK (@ESPNUK) December 21, 2019
It's been several weeks since Mauricio Pochettino left Tottenham, but it would appear that he's still fretting over the terms of separation.
Pochettino spent five and a half years at Spurs during which he transformed them from also-rans to legitimate title contenders and Champions League finalists, only to pay the price for a subpar start to the 2019-20 season.
After signing a new contract extension in 2016, the Argentinian coach was gifted a Bentley by chairman Daniel Levy as a token of appreciation for his ongoing loyalty.
However, having now left the club, Pochettino is unsure as to whether he's allowed to keep the luxury car.
"I don't know [about the Bentley]. I need to ask him (Levy)," he admitted during an interview with The Associated Press.
"At the moment it is in my house and I will see in a few months if it was a present or it was only to say, 'You use the car and when you will not be here, you return the car.'
"I don't know you need to ask Daniel not me. I don't know what is going to happen."
Fingers crossed, Poch.
Of course, if he really wants to keep the car, the sensible thing to do would have been to not mention it while chatting to a global news agency.
Mbappe Claus hands out Christmas presents at PSG
🎅🏽🎅🏽🎅🏽 @PSG_inside pic.twitter.com/2aLQoTQhvY

— Kylian Mbappé (@KMbappe) December 21, 2019
Kylian Mbappe signed off for the Christmas holidays in fitting fashion as PSG went into the seasonal break with a 4-1 win over Amiens.
The striker, who celebrated his 21st birthday on Friday, scored twice in the rout and still found time to provide an autograph/selfie for a young fan who came running onto the pitch at the Parc des Princes.
Mbappe's night didn't end with the final whistle either, with the PSG star duly donning his Santa Claus suit and joining his teammates to hand out gifts on behalf of the PSG Foundation.
A magical evening for the children of the Foundation @PSGChildren 🤩

👦👧 #MatchDeLaFondation

❤️💙 #ICICESTPARIS pic.twitter.com/8WR6Rd8PIw

— Paris Saint-Germain (@PSG_English) December 22, 2019
Mendy tries to start new headwear trend, fails
Explain @benmendy23 ? 😂😂 pic.twitter.com/uGzBTfM0fH

— Aymeric Laporte (@Laporte) December 21, 2019
Manchester City edged very slightly closer to Liverpool at the top of the Premier League with a 3-1 win over the only other team above them in the table, Leicester City.
After falling behind in the early exchanges, City rallied with three unanswered goals to ensure their final pre-Christmas game ended in victory.
Of course, it was therefore only natural that Benjamin Mendy face the media while wearing the kind of floral headscarf generally preferred by ladies over the age of 85.
Mendy's teammates demanded answers, though the left-back merely brushed it off -- not that Raheem Sterling was going to let him get away with it that easily.
Why shouldn't a 25-year-old professional footballer celebrate a win by dressing like Queen Elizabeth II while walking her corgis around the grounds of Balmoral?
The elegant gentleman's shawl is definitely long overdue for a comeback anyway.